---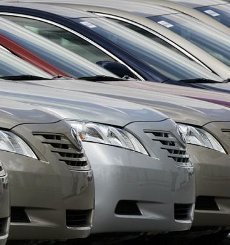 Toyota and Nissan are trying to get back into the game after suffering sharp drops in sales attributed to inventory shortages resulting from the Japan earthquake and tsunami. Both companies are restoring regional sales incentives as the Memorial Day weekend approaches.
Both companies will be rolling out cash-back, cut-rate interest and special leasing deals on a regional basis.
This is good news for consumers, who for the last few months have been largely at dealers' mercy. With demand for new cars exceeding the supply, manufacturers have cut incentives and dealers have stopped sharpening their pencils, putting consumers in a weak bargaining position.
Demand for new cars is strong, with overall sales up 20% over the last month but Toyota turned in a weak 9% while Nissan sales were up 22%.
Many automakers, not just the Japanese, have cut back on sales incentives as parts shortages caused production delays that have left many dealers with fewer cars than usual on their lots.
But with Hyundai-Kia, Volkswagen and many American brands running at full production, the Asian carmakers fear they're being left in the dust. Hyundai sales were up a stunning 37%, many of them coming at the expense of Toyota and Honda.
Toyota has also said it is battling back to full production more quickly than it expected and hopes to be at nearly full capacity over the next 30 days.
Nissan claims to be in better shape than its Asian competitors and has been telling its dealers to "rev the Nissan engine and grow market share" through Memorial Day tent sales and cut-rate lease days on Altimas and Maximas.