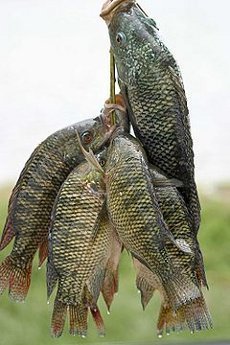 Next time you 're preparing shrimp from India or tilapia from Indonesia, consider this: the Food and Drug Administration tested  about 0.1 percent – yes, that's one-tenth of one percent – of all imported seafood products for drug residues during 2009, the last year for which statistics are available.
The Government Accountability Office (GAO), in a report released this week, generously describes the FDA's fish safety program as "limited." Most inspections consist of reviewing paperwork rather than actually visiting the fish farms or sampling the actual fish.
While many consumers are concerned with chemical residues in wild-caught fish, food safety experts are generally more concern about potential bacterial infections and antibiotics in farm-raised fish. The residues of some antibiotics can cause cancer and antibiotic resistance.
About half of the seafood imported into the U.S. comes from farmed fish (aquaculture), and the percentage is likely to grow as seafood consumption increases and ocean stores are depleted.
As is often true of food safety, an alphabet soup of agencies are involved.
The FDA is charged with ensuring the safety of seafood against residues from unapproved drugs, and the Department of Commerce's National Marine Fisheries Service (NMFS) provides inspection services on request. In 2009, these agencies signed a memorandum of understanding (MOU) to enhance seafood oversight and leverage inspection resources. In preparing its report, GAO reviewed data and documents from each agency and interviewed agency officials.
GAO was asked to assess the extent to which (1) FDA's program is able to ensure the safety of seafood imports against residues from unapproved drugs and (2) FDA and NMFS have implemented the 2009 MOU.
"Limited"
The GAO found the FDA's program "limited, especially as compared with the European Union (EU)."
It said that FDA's program generally consists of "reviewing records to ensure the processors and importers considered significant hazards, including those resulting from drug residues if the seafood they receive are from fish farms."
It noted that "inspectors generally do not visit the farms to evaluate drug use or the capabilities, competence, and quality control of laboratories that analyze the seafood. "
The FDA's sampling program does not generally test for drugs that some countries and the EU have approved for use in aquaculture. Consequently, the report said, seafood containing residues of drugs not approved for use in the United States may be entering the U.S.
"Further, FDA's sampling program is ineffectively implemented," the report said. "For example, for fiscal years 2006 through 2009, FDA missed its assignment plan goal for collecting import samples by about 30 percent."
"Better leveraging available resources is critical, especially in places like China, where FDA has inspected 1.5 percent of Chinese seafood processing facilities in the last 6 years," the GAO said.
The GAO recommended that foreign countries that want to export seafood to the United States should be required to develop a national residues monitoring plan to control the use of aquaculture drugs. It said the FDA should also develop a "more comprehensive" screening program.