---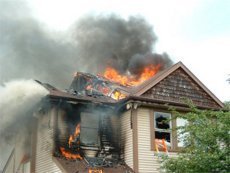 Home prices are down and sales are sluggish to non-existent but there's been one bright spot for homeowners: insurance rates have been relatively stable for the last few years.
But that's about to end. Some of the country's biggest insurers are getting ready to raise rates. Some already have. Smart Money reports that State Farm plans to raise its rates by an average of 7.3%. Firemen's Fund is also increasing premiums with increases reaching 33% in Pennsylvania.
So what's up with that? You might think that with homes actually declining in value that insurance rates would go down.
But insurers look not at the market value of a home but at the replacement cost, and with fuel and materials prices up sharply, replacement costs are rising rapidly.
The spate of natural disasters is also making insurance companies nervous. Tornadoes, hurricanes, floods, earthquakes and severe storms have been occurring with what seems like increasing regularity. While it may be that a growing population and accompanying suburban sprawl simply put more homes in harm's way, the fact remains that insurers get nervous as they see their risk exposure growing.
Oh and by the way, homeowners who live in flood-prone areas are likely to see the price of federal flood insurance going up as well. Congress is looking at raising the limit on annual premium increases from 10% to 20%, partly to recoup the $45 billion in losses from Hurricane Katrina.
What to do?
What's a homeowner to do? There's not a lot individual consumers can do, other than shop around for the best rate in their area.
When buying or building a home, consumers would be wise to consult with a knowledgeable independent insurance agent about the best location, building material and built-in fire protection.
A sprinkler system is relatively cheap to install when building a home and is not only the best protection against fire damage but should also produce major savings in annual premiums.
Live in an area prone to flash fires? A concrete home with a stucco or adobe covering is not only attractive but relatively fire-proof, especially if it also includes a sprinkler system.
And then there's the little matter of earthquakes. Many homeowners don't realize that their homeowners policy probably doesn't cover earthquake damage. If you're taking the trouble to shop around for new coverage, it's worthwhile pricing an add-on policy or rider that covers earthquake damage.
Thanks
Keep an eye on your inbox, the lastest consumer news is on it's way!
Unsubscribe easily whenever you want