---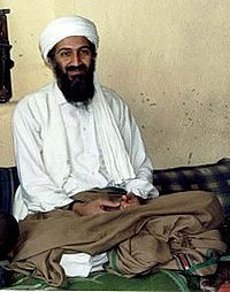 One of your Facebook friends breathlessly posts on your wall, "Osama Dead – Censored Video Leaked." You are then invited to click a link to see video footage of the terrorist mastermind being killed.
But hold on. It's just the latest in a series of scam exploiting the news story that has riveted the world since Sunday evening, according to security experts at Sophos Security.
The message reads as follows:
Watch the Osama Shoot down video
Osama Dead - Censored Video Leaked on.fb.me
Osama is dead, watch this exclusive CNN video which was censored by Obama Administration due to level of violence, a must watch. Leaked by Wikileaks.
If you click the link, you won't see the video because, there isn't a video. However, you will be asked to take an online survey. That, of course, is the whole point of the scheme.
The scammer makes money for every survey that's filled out. Promising sensational footage of Osama Bin Laden getting whacked by Navy Seals is just the latest way to get people to click on a link.
"What's most interesting about this scam is that they trick you into cutting-and-pasting a line of JavaScript into your web browser's address bar," writes Graham Cluley, Sophos' Senior Technology Consultant, in his blog. "Not that you'll realize that you're doing that, of course. As far as you know all you're doing is following a sequence of instructions and keyboard presses before you watch the video."
Whenever you paste a script into your browser's address bar, you're actually running code written by the scammers without the safety net of protection. Why is that a problem?
Because before long, your computer will be sending out news of the exciting Osama shoot-down video to all your Facebook friends. That's how the thing spreads.
In the days ahead there are likely to be many more scams built about the news of Osama bin Laden's death. Make sure you don't fall for them.
The Internet Crime Complaint Center (IC3) urges computer users to not open unsolicited (spam) e-mails, including clicking links contained within those messages. Even if the sender is familiar, the public should exercise due diligence. Computer owners must ensure they have up-to-date firewall and anti-virus software running on their machines to detect and deflect malicious software.
The Internet Crime Complaint Center (IC3) recommends the public do the following:
Adjust the privacy settings on social networking sites you frequent to make it more difficult for people you know and do not know to post content to your page. Even a "friend" can unknowingly pass on multimedia that's actually malicious software.
Do not agree to download software to view videos. These applications can infect your computer.
Read e-mails you receive carefully. Fraudulent messages often feature misspellings, poor grammar, and nonstandard English.
Report e-mails you receive that purport to be from the FBI. Criminals often use the FBI's name and seal to add legitimacy to their fraudulent schemes. In fact, the FBI does not send unsolicited e-mails to the public. Should you receive unsolicited messages that feature the FBI's name, seal, or that reference a division or unit within the FBI or an individual employee, report it to the Internet Crime Complaint Center atwww.ic3.gov.