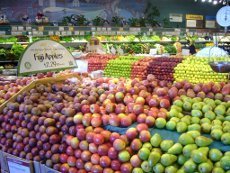 There's no good news about food prices. Whether it's grains, meat, seafood or dairy products, the price of everything is rising at a rate faster than the Agriculture Department's estimate of 3% to 4% this year.
Economists find it alarming and warn that consumers don't have much elasticity left in their household budgets, as wages remain relatively stagnant and energy costs continue to rise.
Nestle, McDonald's and Whole Foods Market are among the companies announcing price increases recently, in reaction to rising commodity costs and – again – higher energy costs.
J.M. Smucker & Co. yesterday raised the price of Folgers, the best-selling coffee after the cost of coffee beans almost doubled over the last year. (Note to coffee drinkers: the amount of land planted in coffee is decreasing while worldwide demand is increasing as the Chinese acquire a taste for coffee. It may be time to switch to tea, like it or not.)
Through April, groceries and restaurant meals are up 2.4%, the highest increase for that period since 1990.
Dry weather in the Great Plains, China and Europe is cutting crop yields and the flooding along the Mississippi River is likely to reduce corn and soybean planting, all of which adds up to higher prices for just about everything, since most food products contain either soy or corn.
Meat prices are also on the rise, but may not peak until later in the year when the steers and hogs now gobbling up all that expensive corn meet their maker and arrive at markets.
The Agriculture Departmet is sticking by its 3% to 4% figure for now but observers note that the USDA tends to be conservative in its estimates. It last estimate was issued in February and a lot – mostly bad – has happened since then.
Might be time to dig up those azaleas and plant some beans.