---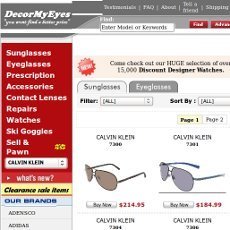 A Brooklyn eye glasses merchant who yelled at, cursed and threatened customers has pleaded guilty to one count of mail fraud and one count of wire fraud. But it's his behavior with consumers that brought him to the attention of law enforcement.
Back in November the New York Times published a story about Vitaly Borker, who owns and operates DecorMyEyes.com out of his home. He admitted to a Times reporter he threatened customers who complained about his products or service.
In the article, he also bragged that he didn't mind it when consumers complained about his company on sites like ConsumerAffairs.com, since even negative comments helped him show up higher in Google searches.
Google reacts
Immediately after the story appeared, Google announced it was changing its algorithm so that sites would not benefit from bad behavior.
Lacey, of San Jose, Calif., told ConsumerAffairs.com last November that Borker was abusive to her when she called to complain that he had lost an expensive pair of glasses she had sent him to have repaired.
"He said 'you know what, you are stupid," Stacey told ConsumerAffairs.com.
Other consumers reported that Borker threatened to kill them when they complained. He allegedly told one consumer, "I know where you live," and emailed her a picture of her house he got from Google Streetview.
Gaming the system
In Borker's ill-advised interview with the Times last year, he said he intentionally abused customers, so they would go online and write about their experience. When they did so, he said, it elevated his site's traffic from search engines.
In the end, the government didn't charge Borker with making threats, but with selling counterfeit eyeglasses. The judge ordered him confined and barred him from using the Internet, pending sentencing.
Sentencing is scheduled for September 16. Prosecutors say Borker could face maximum of six years in prison.