---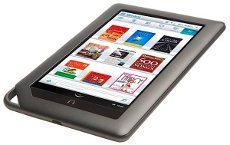 Book retailer Barnes & Noble has introduced a new, lighter version of its Nook e-reader, at a lower price.
The new Nook will have a price tag of $139 and will be available next month. It features a six-inch touchscreen display, weighs just 7.5 ounces and has a reported two-month battery life. For readers who prefer large-print books, the font size can be adjusted.
Barnes & Noble said its new Nook will be able to hold up to 1,000 books.
The company first unveiled the Nook in 2009 as part of its strategy to transition itself as a digital book seller. The results with consumers have been uneven.
Complaints
"I ordered the Nook e-book and was unhappy immediately, as the screen display was garbled and unreadable," Gloria, of Las Vegas, Nev., told ConsumerAffairs.com. "I called Nook customer service, and they sent me a new Nook. This second Nook also experienced problems with freezing up."
"The Nook and Nook Color e-readers work great except for network access," said Mike, of Tumwater, Wash. "They claim that the device will 'completely connect' to any 801 b/g/n wifi. However, it only works with certain routers and networks. Support will put you through a series of resetting and power on and off. Then, they want me to reset the router. I informed them that I am unable to reset the routers at my favorite coffee joint or the Free Berkeley Wifi at the public library."
The current Nook models have a 2 GB hard drive and both Wi-Fi and 3G connectivity. It debuted at a price of $259.
Competition
The new Nook will have even more competition than when it was introduced less than two years ago. Then, only the Amazon Kindle provided real competition. Now, it will be up against Apple's iPad and other tablets, not to mention smartphones.
Playing in the background of the new Nook roll-out is a takeover battle for ownership of Barnes & Noble. Liberty Media has offered to buy the company for $1 billion, motivated some observers say, by getting its hands on the company's e-reader.