---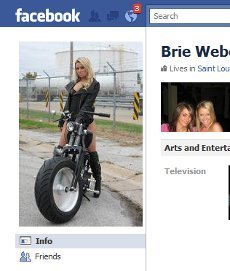 A St. Louis woman has sued Facebook for failing to remove a false profile containing her name and photo.
Brieanna Weber said that when she discovered the phony profile, set up under the name "Brie Weber," she had her lawyer send a letter to Facebook asking that it be removed and that she be furnished with the identity of the perpetrator.
That was on March 10. Nothing happened.
On March 17, Weber's lawyer, Jeffrey J. Lowe, received "what appear to be an automated response from Facebook thanking him for the report but stated [sic] that for security reasons, Facebook would not be able to respond with the additional information … and to please have the account owner view the security section of our help center," the suit states.
Lowe responded: "How can the account holder respond, it is not her profile. She is not the account holder, an imposter is."
On March 30, Lowe contacted Facebook again, noting that he had received no response.
The suit, filed in St. Louis City Court, seeks an injunction ordering Facebook to remove the fake profile, photos and content.
As of this writing, Facebook lists three Brie Webers. One of them is identified as living in St. Louis and has 51 "friends." The listing includes several photos, including one of a scantily-clad blonde woman astride a motorcycle. Another is a private listing with a single murky photo of a blonde woman who resembles the first "Brie." The third is someone else entirely, swept into the mystery by accident.