---
Severe weather hashit much of the South and Midwest in recent days. While the damage to Lambert St. Louis Airport was the most dramatic, thousands of homeowners and small businesses have also suffered wind and water damage, leaving them prey to scam artists posing as legitimate contractors.
"Those whose homes have been damaged by high winds, lightning or flooding should not be victimized again by criminals who are looking to take advantage of widespread devastation in the Commonwealth," saidKentuckyAttorney General Jack Conway.
Conway said consumers needing work done quickly to repair storm-damaged homes and property are at risk of falling victim to fly-by-night contractors, also known as "storm chasers." Common natural disaster scams include outright fraud, shoddy construction, charity scams, impersonating officials, and loan scams.
"We know our neighbors are hurting right now and if residents see people in their communities who are trying to take advantage of consumers, I would encourage them to contact us," General Conway said.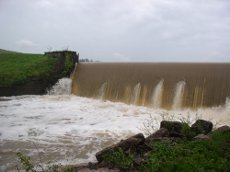 States of emergency have been declared in Illinois, Missouri, Kentucky and Arkansas. In Missouri, Gov. Jay Nixon activated the National Guard as evacuations got underway in Poplar Bluff, where a levee on the Black River was seriously damaged.
A levee on Iron Mountain Lake was also leaking but at last word was still holding, ParklandNews.com reported (photo courtesy of Parkland News).
Price-Gouging Provision Triggered
Kentucky Gov. Steve Beshear, in his emergency declaration yesterday, also agreed to trigger the price-gouging provision to help prevent unscrupulous businesses from raising prices on goods that consumers need to weather recent storms.
"The vast majority of Kentucky businesses would never seek to profit from someone else's misfortune, but we want to make sure that no one seeks to exploit our friends and neighbors who are cleaning up from floods, high winds or power outages," General Conway said.
The price-gouging provision means businesses cannot gouge storm victims on things like hotel rooms, generators, gasoline and clean-up supplies.
Similar provisions are in effect in other storm-wracked states.
Conway provides the following tips to consumers needing storm repair or clean up services:
Never pay in advance for labor. Scam artists often take advance payments from consumers and never return to complete the work. If an advance is needed to purchase materials, offer to purchase the materials yourself;

Use local, reputable contractors for repairs, if possible. If local contractors bring in out-of-town workers, ask who will be responsible for their work if it is not satisfactory;

Ask if the contractor is licensed, bonded (if required by the city or county), and insured;

Demand a written contract. If possible, get estimates from several contractors;

Be suspicious of unfamiliar, out-of-state vehicles and those who offer repair work at unreasonably low prices. Contact local law enforcement about your suspicions.