---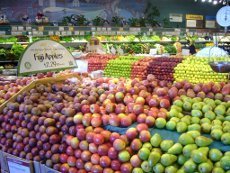 The Great Recession has changed a lot of consumer behavior, especially when it comes to mealtime. Economic difficulties have led to some new food trends, tracked by Food Technology Magazine.
Data gathered from a variety of sources finds that although there were signs of improvement last year in the consumer food products industry, lingering issues such as high grocery and gasoline prices, job insecurity and the risk of inflation are limiting what consumers will spend.
Oddly, this might be a positive development for consumer health. This new conservative attitude is leading to more home cooked meals, which tend to be healthier than restaurant meals.
For example, last year more than half (55 percent) of grocery shoppers prepared more meals at home than in 2009, approaching a 20-year high. That trend is expected to continue.
Older consumers eat healthier
When you break down the numbers demographically, older consumers tend to eat healthier than their younger counterparts. For example, those older than 50 are the last generation to be raised on European-influenced meals made from scratch and served three times a day. In contrast, the NPD Group predicts that Gen Yers will drive consumption of salty/savory snacks, easy meals, center-of-the-plate proteins, sweet snacks/desserts, and heat-and-eat breakfasts.
The magazine finds that consumers are increasingly concerned about contents of the food in their diets, believing that limiting them is a component of healthy eating. Research finds half of consumers deliberately avoid preservatives, almost half (47 percent) avoid artificial flavors, and 43 percent avoid colors. Natural ingredients rank third on the list of most looked-for items on the ingredient label, after type of fat/oil and sweeteners.
Consumers also seem to be very concerned about risk factors for disease, and they are turning to functional foods to aid in their health goals. Research finds 68 percent of baby boomers were concerned about cholesterol and 66 percent were concerned about blood pressure. Among Gen Y consumers, 40 percent were concerned about cholesterol and blood pressure.
Rising prices could be a threat
But as food prices begin to rapidly rise, there is growing concern that this inflation could negate some of these healthy-eating trends.
"Coupled with the financial crisis, high food prices can take a significant toll on nutrition, especially in developing countries," sais Lora Iannotti, PhD, a public health expert and professor at the Brown School at Washington University in St. Louis.
Iannotti says the same thing can happen in wealthier countries like the U.S., as households opt for less expensive, poor quality foods.
Iannotti and Miguel Robles, PhD, from the International Food Policy Research Institute examined the effects of food price hikes on calorie consumption in seven Latin American countries.
Poorer quality food
"During a food price crisis, households moved away from 'luxury' food items such as meat, fish and dairy products to poorer quality food," she said.
Using data from nationally representative household budget surveys, Iannotti and colleagues found that during a food price crisis calorie intake was reduced by an average eight percent from precrisis levels and rural areas and urban areas were equally affected.

"We are particularly concerned for families with young children," Iannotti said. "When you have a reduction in calories and critical nutrients for kids under two, there are long term consequences such as stunted growth, cognitive deficits, lower educational attainment and reduced future productivity. "