---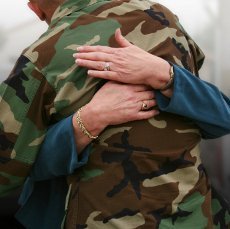 JP Morgan Chase & Co. has agreed to pay $56 million to settle claims that it overcharged active-duty service members for their mortgages. The tentative agreement settles a class action lawsuit filed by U.S. Marine Corps Capt. Jonathon Rowles, whose South Carolina home was foreclosed on by Chase.
Rowles, a pilot flying missions in South Korea, filed a lawsuit last July in U.S. District Court in South Carolina, charging that military personnel were being overcharged and subjected to aggressive collection practices.
The bank will pay $27 million in cash to about 6,000 active-duty military, cut interest rates on soldiers' mortgages and return homes that were wrongfully seized in foreclosure actions.
"We are sorry and regret the mistakes our firm made on mortgages for members of the military, and we'd like to thank Capt. and Mrs. Rowles for helping us address them," said Frank Bisignano, Chief Administrative Officer of JPMorgan Chase who was appointed head of Chase Home Lending in February.
"We hold ourselves accountable and responsible for these mistakes, and fixing them is just the beginning of a new way forward with the military and veteran community as we make serving them a core part of how we operate our business every day," Bisignano said.
JPMorgan conceded three months ago that it had made errors in the handling of mortgages covered by the Servicemembers Civil Relief Act, a law intended to shield deployed military personnel from financial stress. The law allows soldiers to demand mortgage interest rates be set at 6 percent while on active-duty status. The law applies to current loans and those taken out by troops prior to being deployed.
Additional programs
Chase said it would institute several new programs to help service members and named Rowles to serve as chair of an advisory panel.
"My family and I thank Chase for resolving this matter," said Capt. Rowles. "It is our hope that this settlement will result in greater attention by the entire financial services industry to the nation's laws that protect our military families. We also hope others follow Chase's lead in creating additional programs for job creation, home ownership, and other financial assistance for veterans and members of the military. I look forward to working with Chase on these initiatives as an advisor to its Veteran's Advisory Council."
On February 15, 2011, Chase announced a series of programs to help military and veterans. Those programs include:
Reduced Servicemembers Civil Relief Act (SCRA) Pricing - Chase will lower eligible borrowers' effective mortgage interest rate to 4% while on active duty and for a year thereafter.
Military Modification Program - An enhanced modification program for all members of the military who have served on active duty as far back as 9/11/01.
Home Ownership Assistance -
Chase will not foreclose on any currently deployed military personnel.
Chase believes we now have the systems and controls in place to avoid wrongful foreclosure proceedings on any military covered by SCRA. In cases where we have mistakenly foreclosed on military borrowers who should have been covered by SCRA, in addition to rescinding the sale, we will forgive all their remaining mortgage debt. Going forward, if we ever have a wrongful foreclosure sale on an SCRA covered customer, we will forgive all of their remaining mortgage debt, as well.
Chase will donate 1,000 homes to servicemembers and veterans over the next five years through our non-profit partners.
By the end of 2011, Chase will open six new Chase Homeownership Centers in cities near the large military bases.
Chase will staff all of its Homeownership Centers with employees specifically trained in SCRA, military issues and Chase special military programs.
Jobs
On March 9, 2011, JPMorgan Chase launched the "100,000 Jobs Mission" with 10 other corporate partners. Collectively, these partners pledge to hire 100,000 transitioning military members and veterans by the end of 2020.
Education and Training
In close partnership, JPMorgan Chase and Syracuse University will offer a tuition free technology certificate through Syracuse University exclusively for veterans to prepare them for technology careers. The program is available to all military members who have served on active duty going back to 9/11/01.
For more information on the firm's current programs available to military and veterans, visit www.chasemilitary.com.