---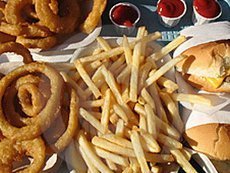 The U.S. Government is presenting the food industry with a set of voluntary guidelines designed to reduce childhood obesity. The message in the guidelines is clear: don't use clever marketing to sell junk food to kids.
If adopted, the new guidelines would change how many food items like cereal, sodas, snacks and fast food meals are advertised.
"Children are strongly influenced by the foods they see advertised on television and elsewhere. Creating a food marketing environment that supports, rather than undermines, the efforts of parents to encourage healthy eating among children will have a significant impact on reducing the nation's childhood obesity epidemic," said Health and Human Services Secretary Kathleen Sebelius. "These new principles will help food and beverage companies use their creativity and resources to strengthen parents' efforts to encourage their children to make healthy choices."
Working group on obesity
The guidelines are the product of a working group comprised of four federal agencies – the Federal Trade Commission (FTC), Food and Drug Administration (FDA), Centers for Disease Control and Prevetion (CDC) and the U.S. Department of Agriculture (USDA). Their guidelines have been published for public comment.
The proposed voluntary principles stop short of the mandatory regulations many food industry critics advocated, but are designed to reach the same goals; to encourage stronger and more meaningful self-regulation by the food industry and to support parents' efforts to get their kids to eat healthier foods.
"As a parent and grandparent, I know the power advertising and marketing can have on kids, and my hope is that the food industry will embrace these voluntary principles and apply them so parents can make informed decisions about the foods they feed their children," said Agriculture Secretary Tom Vilsack.
"To their credit, some of the leading companies are already reformulating products and rethinking marketing strategies to promote healthier foods to kids. But we all have more work to do before we can tip the scales to a healthier generation of children," said FTC Chairman Jon Leibowitz. "This proposal encourages all food marketers to expand voluntary efforts to reduce kids' waistlines."
Big changes
The proposals, if adopted by food producers, would require that their advertising and marketing be used to encourage the consumption of healthy foods. A cartoon character used to pitch a sugary cereal, for example, might be retired, or given a new job promoting a different, healthier product.
The working group makes it clear it wants to see the food industry spend ad dollars to promote a healthful diet from food groups including vegetables, fruit, whole grains, fat-free or low-fat milk products, fish, extra lean meat and poultry, eggs, nuts or seeds, and beans.
By the same token, the guidelines indicate saturated fat, trans fat, added sugars, and sodium in foods marketed to children should be limited to minimize the negative impact on children's health and weight.
The working group proposes that industry strive to market foods by the year 2016 that meet the proposed nutritional principles and marketing criteria. For sodium, the proposal includes interim targets for 2016 and final targets for 2021.
'Strong and sensible'
The Center for Science in the Public Interest, a long-time food industry critic, praised the working group's guidelines as "strong and sensible," even though they are voluntary and lack the force of regulatory action.
"A key weakness of the current self-regulatory approach to food marketing to children is that each company has its own strategically tailored standards," said Margo G. Wootan, director of nutrition policy at CSPI. "While overall the standards look fairly similar, many have loopholes, like weak or no sodium standards for fast-food companies and weak sugar standards for cereal marketers."
CSPI says food companies spend approximately $2 billion a year on marketing foods and beverages to children, mostly for foods high in calories, fats, sugars, and sodium, and low in fruits, vegetables, whole grains, and key nutrients.