---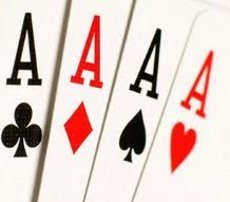 The federal government has ended a longtime stand-off with the online poker industry, indicting the founders of the three largest Internet poker companies doing business in the U.S – PokerStars, Full Tilt Poker and Absolute Poker – shuttering their sites and freezing their assets.
Although some states have considered legalizing online gambling, the federal government has long contended that online gambling of all kinds, including poker, is illegal.
The District of Columbia recently legalized online poker as long as the players are within the geographic confines of the District.
The Poker Players Alliance, a Washington-based lobbying group, denounced the crackdown.
"Millions of Americans across the country today are outraged over the U.S. Department of Justice's clear attack on internet poker," said John Pappas, the group's executive director. "While the government's focus may be on the companies who operate these games, this is plain and simple a declaration of war on poker players and poker players' freedoms.
That argument didn't carry much weight with the feds, however.
"Foreign firms that choose to operate in the United States are not free to flout the laws they don't like simply because they can't bear to be parted from their profits," Preet Bharara, the United States Attorney for the Southern District of New York, said.
Bharara and Janice Fedarcyk, the Assistant Director in Charge of the New York Field Office of the Federal Bureau of Investigation ("FBI"), announced the unsealing of an indictment charging 11 defendants with bank fraud, money laundering, and illegal gambling offenses.
The United States also filed a civil money laundering and in rem forfeiture complaint against the poker companies, their assets, and the assets of several payment processors. In addition, restraining orders were issued against more than 75 bank accounts utilized by the companies and their payment processors, and five Internet domain names used by the companies to host their poker games were seized.
"These defendants concocted an elaborate criminal fraud scheme, alternately tricking some U.S. banks and effectively bribing others to assure the continued flow of billions in illegal gambling profits," Bharara said. "Moreover, as we allege, in their zeal to circumvent the gambling laws, the defendants also engaged in massive money laundering and bank fraud.
"These defendants, knowing full well that their business with U.S. customers and U.S. banks was illegal, tried to stack the deck," Fedarcyk said. "They lied to banks about the true nature of their business. Then, some of the defendants found banks willing to flout the law for a fee. The defendants bet the house that they could continue their scheme, and they lost."