---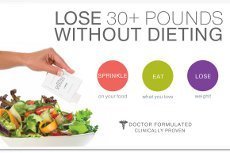 Afederal class action accuses Sensa Products and Dr. Alan R. Hirsch of selling snake oil: "magic" "tasant" "crystals," a "new, clinically proven method of losing weight," with "no food restriction, and no change in lifestyle."
In the suit, filed in U.S. District Court in San Francisco, Jeannette McClendon of Contra Costa County, Calif., says she was tricked by Sensa's sales pitch into purchasing Sensa crystals, only to learn that the claims were without scientific foundation.
Instead of offering pills, liquid or specially-formulated food, Sensa sells what it describes as "sprinkles" – or crystals – that overweight consumers can sprinkle on their food, causing a weight loss of 30 pounds or more, all without dieting or exercise.
"Moreover," the complaint notes, "This strange approach to weight loss is 'Doctor Formulated' and 'Clinically Proven.'
According to the sales pitch, Sensa crystals work with your sense of smell to stimulate an area of your brain called the "satiety center," which "tells your body it's time to quit eating." The suit alleges the sales pitch is false, misleading and unsubstantiated and says there is no competent scientific evidence to support it.
The lawsuit concedes that Dr. Alan R. Hirsch, M.D., who appears in promotional materials for Sensa, is a broad-certified neurologist but refers to him as a "particularly sophisticated hustler, one with a medical degree and a thick stack of junk science to support the claim his magic crystals are 'clinically proven.'"
Dr. Hirsch has been able to get by with this, the suit charges, only because over-the-counter weight-control products have not been regulated as drugs since 1994, when Congress bowed to pressure from the dietary supplement industry and largely removed supplements from FDA regulation.
The suit charges that Sensa has violated various California laws, including those dealing with false advertising and unfair business practices.