---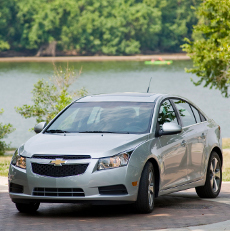 A motorist driving a new Chevrolet Cruze says he was driving down a highway when the steeling wheel came off in his hands. Seriously.
General Motors said it believes it was an isolated incident, but is recalling 2,100 of the cars nonetheless. The carmaker reported the incident, which happened in March, in documents filed with the National Highway Traffic Safety Administration (NHTSA).
Here's what GM says it thinks happened: when this particular car was in production, the wrong steering wheel was installed. Inspectors caught the mistake and the correct wheel replaced the incorrect one, but it was not properly secured. It was just a matter of time before it came off the steering column.
According to GM, the driver was able to slow the car and get it safely to the side of the road. There were no injuries connected with the incident.
GM introduced the Cruze with the 2011 model year and has sold more than 50,000 of the cars through March. The Cruze replaced the Chevrolet Cobalt and is a direct competitor with the Toyota Corolla.
The 2,100 Cruzes subject to recall will be inspected at Chevrolet dealers to make sure the steering wheels are properly attached. The recall is expected to begin immediately and owners may contact Chevrolet at 1-800-630-2438.