---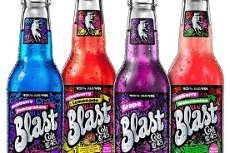 Utah Attorney General Mark Shurtleff and 17 other top law enforcement officials are calling on Pabst Brewing company to stop selling flavored malt liquor containing nearly five servings of alcohol in single can. A 23.5 ounce can of Blast by Colt 45 has 12% alcohol by volume and comes in four fruit flavors.
"Pabst has sunk to a new low by selling highly alcoholic drinks aimed at the youngest drinkers," says Shurtleff.  "Blast is irresponsible for making one drink that can cause someone to be legally drunk."
Shurtleff and the attorneys general from Arizona, California, Connecticut, Guam, Idaho, Illinois, Iowa,  Kentucky, Maine, Maryland, Massachusetts, New Mexico, Ohio, Oklahoma, Tennessee, Washington and the city attorney from San Francisco sent a letter to Pabst today asking the company to stop making Blast.
The beverage has been called "binge in a can" because anyone who consumes a can within an hour or so will have engaged in binge drinking as defined by the federal government. 
The attorneys general are also taking Pabst to task for using hip hop artist Snoop Dogg to promote Blast to young people.  Pabst created a promotional YouTube video showing the singer drinking Blast and Colt 45 while partying with scantily clad models.  The rap star has also promoted Blast to millions of his followers on Facebook and Twitter.
"I hope our letter to Pabst to take swift and responsible action is also heeded by other companies who produce these super-sized 'alcopops,'" adds Assistant Attorney General Thom Roberts, who is working with other states to stop Blast and similar drinks.
Shurtleff is the chair of the Youth Access to Alcohol and Drugs Committee for the National Association of Attorneys General.