---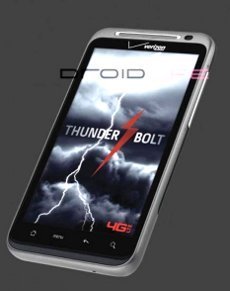 Verizon Wireless will introduce a new smartphone Thursday, though it's getting none of the buzz accompanying Verizon's iPhone. But the new HTC ThunderBolt has something the iPhone doesn't - 4G speed.
Though Verizon rolled out its much-faster 4G network late last year, until now it has not sold a smartphone that runs on it. The faster network was accessible only through air cards, attached to PCs.
Three more smartphones in the wings
The Thunderbolt is the first 4G smartphone, though at least three others are expected later this year. Verizon Wireless has promoted future 4G phones from Samsung, LG and Motorola.
The ThunderBolt goes on sale March 17 for $249.99, with a two year contract. It's powered by Android 2.2 and features the latest version of HTC Sense, which offers enhancements including new personalization options, a consolidated e-mail inbox, and special camera effects and filters.
Download speeds of 5 to 12 mbps
Because it operates on the 4G LTE network, Verizon said customers can expect download speeds of 5 to 12 Mbps and upload speeds of 2 to 5 Mbps in 4G Mobile Broadband coverage area. That area is rather limited now, but should cover a wide area of the country by the end of the year.
It has a 4.3-inch WVGA display and 8-megapixel rear facing camera and HD (720p) video recording 1.3-megapixel front facing camera with video chatting capabilities. It's powered by Qualcom's 1GHz Snapdragon processor.
In a new feature, the Thunderbolt will have Mobile Hotspot capability, which means it can share its 4G connection with up to eight Wi-Fi-enabled devices. Consumers who purchase the phone right away get that feature for free. After mid-May, it will cost $20 for two gigabytes per month.