---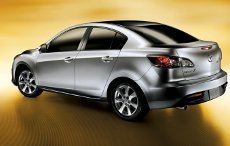 Mazda has suspended U.S. dealer orders for vehicles made in Japan. The company had reopened its plants briefly but had to close them again because of disruptions caused by the earthquake, tsunami and nuclear plant disaster.
Mazda models imported from Japan include the Mazda2, Mazda3, MX-5 Miata, RX-8, CX-7, CX-9 and Mazda5.
The suspension basically cuts off the May allocation for Mazda's U.S. sales network. It's not known when imports will resume.
Other automakers are having similar difficulties, although Mazda's situation is somewhat more severe, as it imports most of the cars it sells in the U.S., while other Japanese automakers assemble many of their vehicles in the U.S.
Honda suspended U.S. dealer orders for Japan imports this week, including the Honda Fit, CR-V, Insight, CR-Z, Civic Hybrid and Acura TSX and RL.

Nissan said it was cutting its May allocation in half, while Toyota and Mitsubishi have suspended dealer orders.

Toyotahas delayed the launch of its new Prius wagon in Japan. Shipments of the Prius sedan are on hold.

GM has had to idle some plants in Europe and the U.S. because of parts shortages.

Ford has advised its dealers that it won't be able to fill orders for black vehicles because of paint shortages.

Volkswagen said it may have to slow production in Europe as component suppliers in Japan struggle to get their plants back into action.
All told, global automakers have so far lost production of more than 232,000 vehicles, Bloomberg News reported today. That figure doesn't include lost production at Nissan, General Motors and other companies that haven't provided figures. The total figure may be over 300,000, industry sources say.