---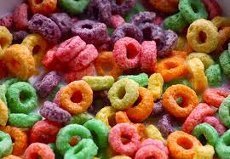 You might remember that last June, Kellogg Company recalled several of its popular breakfast cereals because of what the company called "an uncharacteristic off-flavor and smell coming from the liner in the package."
At the time no one seemed to know quite what the problem was but the company advised consumers not to eat the cereals – Corn Pops, Froot Loops, Apple Jacks and Honey Smacks – until the mystery was solved.
Well, the mystery has been solved, at least according to a lawsuit Kellogg has filed against FPC Flexible Packaging Corp., a Scarborough, Ontario, company. Kellogg claims Flexible sold it cereal box liners contaminated with hydrocarbons with "offensive, off characteristics that caused symptoms including nausea and diarrhea."
Kellogg said it uses a paper, foil and wax cereal liner to package the affected cereals, a liner that, until June 2010, it purchased from FPC.
In a federal suit filed in Michigan, Kellogg said it suffered "significant damage to its property and was forced to institute a costly nationwide recall" because of consumer complaints about the off-putting smell.
"After extensive testing … Kellogg discovered that the offensive characteristics were caused by the present of heightened levels of hydrocarbons contained in the cereal liners manufactured by FPC," the complaint alleges.
As a result of the faulty liners, Kellogg said it incurred millions of dollars in damages, including the cost of the recall, the loss of sales, replacement vouchers issued to customers, and the expense of investigating the problem and producing a health hazard assessment for submission to the U.S. Food and Drug Administration.
Kellogg also complained that it was forced to find another supplier for its cereal liner "at higher overall cost than its existing contractual arrangement with FPC."
For its part, FPC maintains that the liners were not defective and contends that Kellogg owes it $3.4 million for the materials it had purchased to manufacture future liners for Kellogg and $1 million for the allegedly defective liners.
Kellogg asks the court to award it damages, legal fees and "such other and further relief as this Court deems equitable and just."