---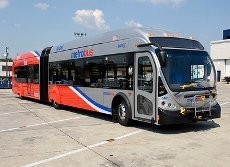 It takes a lot to get Americans out of their cars, but expensive gasoline has been known to do it. When gas prices rise, so does ridership on public transportation.
With gasoline prices over $4 a gallon in some areas, with predictions of $5 a gallon in the not-too-distant future, even more people may be eyeing public transportation. The question is, can public transportation handle the increase in passengers?
Ridership increases, along with gas prices
A study released by the American Public Transportation Association (APTA) found that if the national average price of gasoline reaches $4 a gallon, as it did three years ago, it will result in an extra 670 million passenger trips per year on mass transit, for a total of 10.8 billion passenger trips per year.
The study showed that $5 a gallon gasoline would increase annual passenger trips by 1.5 billion. If prices at the pump were to soar to $6 a gallon, there could be an extra 2.7 billion passenger trips per year by consumers forced to give up their cars.
But with municipalities struggling to contain budgets, very few are allocating funds to build more subways and put more buses on the street. Besides, this type of infrastructure additions require significant lead time.
Wake up call
"The volatility of the price at the pump is another wake up call for our nation to address the increasing demand for public transportation services," said APTA President William Millar. "We must make significant, long-term investments in public transportation or we will leave our fellow Americans with limited travel options, or in many cases stranded without travel options. Public transit is the quickest way for people to beat high gas prices if it is available."
Millar says public transit systems in many parts of the country are already seeing a big jump in ridership. The South Florida Regional Transportation Authority in Pompano Beach, Fla., increased by 10.6 percent; Southeastern Pennsylvania Transportation Authority of Philadelphia, Pa., increased by 10 percent; and the Capitol Corridor Joint Powers Authority of Oakland, Calif., increased by 14 percent.
"We saw this same story in 2008 and several times before where high gas prices caught our country without adequate travel options," said Millar. "However, this time we can write a happy ending and make sure investment is made to expand public transportation so that more Americans have a choice in how they travel."
But with Congress wrestling with rising budget deficits, very few lawmakers are talking about spending more on public transportation.