---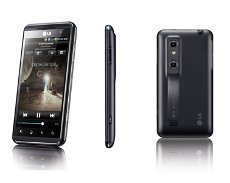 Just one day after it announced its blockbuster deal to acquire T-Mobile, AT&T announced the launch of two new smartphones, including one model that it calls the first 3D phone sold in the U.S.
The LG Thrill 4G and the HTC HD7S joined the AT&T line-up today, as the carrier continues to offer a wider variety of devices, now that its once-exclusive iPhone is now available to Verizon Wireless subscribers.
AT&T says the LG Thrill 4G is the first U.S. smartphone that will feature a "glasses-free" 4.3-inch stereoscopic 3D display plus 4G speed capability. Beyond its 3D screen, the LG Thrill 4G features a dual-core, 1 GHz processor, and a 5-megapixel dual-camera that allows you to shoot and share high definition videos and images in 3D.
The HTC HD7S is another Windows Phone, this one with a 4.3-inch, WVGA, super LCD display, 1 GHz processor and 5-megapixel camera with dual-LED flash.
Exclusive
The iPhone may no longer be exclusive to AT&T, but the company says the LG Thrill 4G is, and will go on sale in AT&T stores later this year. It runs the first dual-core, dual-channel 1 GHz processor in the U.S. and is based on the Android 2.2 platform. It will allow users to shoot 3D video and 3D stills with the dual 5-megapixel stereoscopic camera.
In addition to apps and games from Android Market, LG Thrill 4G will offer 3D content via the "LG 3D Space," which houses 3D games, video clips and images for quick, convenient access. It will come preloaded with 16 GB of memory, 8 GB onboard plus an 8 GB MicroSD card.
New Windows phone
AT&T says the HTC HD7S will have the largest screen on a Windows Phone from AT&T and will include the latest version of Windows Phone software. It will be powered by a 1 GHz processor and support more than 10,000 applications available for download or purchase from Windows Marketplace.
In addition, with the preloaded U-verse Mobile application, qualifying AT&T U-verse customers can download and watch TV shows on their Windows Phone. Non-U-verse customers can subscribe to U-verse Mobile for $9.99 a month and choose from a broad selection of programming to watch on their Windows Phone.