---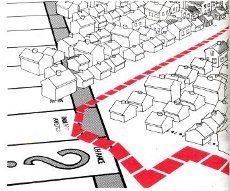 The Ohio Civil Rights Commission is accusing Wells Fargo of discriminating against African-Americans seeking home loans by practicing what it called "reverse redlining."
In a lawsuit filed by Ohio Attorney General Michael DeWine, the commission charges that Wells-Fargo offered African-Americans loans that had "abusive and grossly unfavorable terms" that it said were likely "to have a detrimental effect on African-American neighborhoods."
The term "redlining" has historically been used to describe banks refusing to make home loans in minority neighborhoods. "Reverse redlining," the Ohio commission said, amounts to selling African-Americans "abusive and detrimental loans."
The suit charges that the terms of the loans were so unfavorable that there was almost no likelihood the borrowers would be able to repay them.
Wells-Fargo has "taken advantage of" minority borrowers by its willingness to make, purchase and service mortgages containing abusive and detrimental terms and that are in excess of the market value of residential properties that secure them."
The named plaintiff in the suit is Latonya Sykes-Jackson, who lives in a section of Warrensville Heights, Ohio, that is defined by the U.S. Census as 96.6% black.
The suit says that Sykes-Jackson refinanced her home, replacing two existing mortgages that totaled $111,642 with a new mortgage, later bought by Wells-Fargo, that totaled $122,700. The new note called for 359 monthly payments of $1,009 and a final balloon payment of $87,292 on February 1, 2037.
Just four months later, Wells Fargo offered to issue an FHA-insured mortgage on much more favorable terms, but with additional closing costs of $5,963. The proposed new mortgage was based on an appraised value of $130,000 for Sykes-Jackson's house, far higher than the $95,000 figure found in the loan file.
"Requiring Complainant to pay the premium of additional closing costs of $5,963.13 in order to unburden herself of the abusive, determinal, and grossly unfavorable terms, further exploited Complainant based on her race by unjustifiably imposing inflated fees for services for which she had paid four months earlier, such as new appraisal fees, new insurance costs, new credit report, and new title work," the suit charges.
In default
Less than a year later, Wells-Fargo claimed Sykes-Jackson's loan was in default despite her having made timely payments, the suit charges, and assessing a $100 late charge.
The bank's policies "arbitrarily inflated appraisals in order to artificially support mortgages in amounts that greatly exceeded the market value," leaving the homeowners subject to bankruptcy and foreclosure if their economic circumstances changed.
It charged that the bank also "negligently or intentionally misapplied mortgage payments" and then issued a default notice on Sykes-Jackson's property.
The suit asks that Sykes-Jackson receive damages of up to $25,000 and be granted a mortgage on more favorable terms with no additional closing costs.