---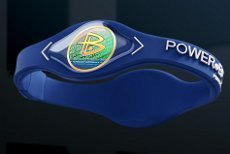 An Orange County, Calif., man is the latest to file a federal class-action lawsuit against the makers of Power Balance wristbands, following the company's recent admission that there is "no credible scientific evidence" that supports its claims.
Brian Casserly's suit also names celebrity endorsers Shaquille O'Neal and Lamar Odom.
In its advertisements and promotional materials, Power Balance claims its wristbands and necklaces containtwo holograms on Mylar "treated with energy waves at specific frequencies," and that the product will "optimize the body's natural energy flow."
"Our allegation is it's biologically impossible for two holograms to affect your strength or performance," said D. Greg Blankinship, one of Casserly's lawyers.
Last month, the Australian Competition and Consumer Commission (ACCC) concluded that the bracelet "may be no more beneficial than a rubber band." The company then conceded that there is "no credible scientificevidence that supports our claims and therefore we engaged in misleading conduct in breach of" an Australian consumer protection law.
The ACCC ordered Power Balance to take the product off the market and to issue a refund to any consumer who so requested.
But the company is continuing to tell a different story in the United States.
"Contrary to recent assertions in the Australian press, Power Balance has made no claims that our product does not perform," reads a statement by Power Balance President Keith Kato on the company's Web site. "Our products are based on the idea of optimizing the body's natural energy flow, similar to concepts behind many holistic and Eastern philosophies."
Kato's statement makes no mention, however, of official statements released by the ACCC, the Australian equivalent of the U.S. Federal Trade Commission.
"Power Balance Australia Pty Ltd claimed the wristbands improve balance, strength and flexibility and worked positively with the body's natural energy field. It also marketed its products with the slogan 'Performance Technology'. The ACCC raised concerns that these claims were likely to mislead consumers into believing that Power Balance products have benefits that they do not have," read an official ACCC press release.
"Power Balance has admitted that there is no credible scientific basis for the claims and therefore no reasonable grounds for making representations about the benefits of the product. Power Balance has acknowledged that its conduct may have contravened the misleading and deceptive conduct section of the Trade Practices Act 1974,"the official Australian statement continued.
At least ten other class actions have been filed against Power Balance. It's expected they will be consolidated into a single suit and heard in California, where the company is based.