---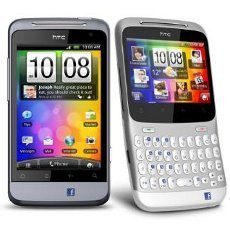 If Facebook was at the center of the Egyptian Revolution, it should be no surprise that a leading smartphone manufacturer has decided to build a couple of new devices around the social network site.
HTC Corporation has unveiled two new phones built entirely around social networking. Part of a portfolio of six new HTC Sense-based devices being unveiled at Mobile World Congress, the two phones, the HTC ChaCha and HTC Salsa, feature a dedicated Facebook button for one-touch access to the key functions of the Facebook site and are integrated throughout the HTC Sense system.
"HTC has always understood that different people want different things and the new HTC ChaCha and Salsa offer special new ways to experience Facebook on a mobile device," said Peter Chou, CEO of HTC Corporation. "With more than 500 million active users worldwide, Facebook has become synonymous with the social web and we wanted to create the ultimate socially connected phones with mass market appeal."
"We have worked closely with HTC for several years on bringing Facebook to their devices and HTC ChaCha and HTC Salsa are the next stage," said Henri Moissinac, Head of Mobile Business for Facebook. "HTC has brought Facebook to these two new devices in an innovative way enabling people to connect and share easily whenever they want, wherever they are."
Built-in Facebook button
The Facebook button on HTC ChaCha and HTC Salsa is context-aware, gently pulsing with light whenever there is an opportunity to share content or updates through Facebook. With a single press of the button, you can update your status, upload a photo, share a Website, post what song you are listening to, 'check in' to a location and more.
For example, you can take a photograph of friends on your phone and upload it instantly to Facebook by simply pressing the button. Or let your friends know what song you're listening to by pressing the button while listening to music on the phone. The track is automatically identified and shared on Facebook.
The new devices feature Android Gingerbread 2.3.3, and use the latest iteration of HTC Sense to integrate Facebook throughout the HTC Sense experience, HTC says. When you make a phone call, the dialer screen displays your friend's latest status and photos, and even tells you if their birthday is approaching.
The same updates are also displayed when you receive a call from a Facebook friend. You can also use your phone's existing contacts to help you connect with them on Facebook or personalize your handset further with a number of new, Facebook-branded widgets.
Video calling
The HTC ChaCha features a QWERTY keyboard and video chat capability. It includes a 5-megapixel color camera with auto focus and LED flash and a VGA front-facing camera. For Web browsing, it has a 2.6-inch, 480 x 320 resolution landscape touch screen.
The HTC Salsa also has a 5-megapixel camera for capturing stills, video or for face to face conversations. For face-to-face conversations on the move, the company says the VGA forward-facing camera enables high-quality video calling.
The HTC ChaCha and HTC Salsa smartphones will be available to customers across major European and Asian markets during the second quarter of 2011. In the United States, HTC says it plans to release both phones later this year exclusively with AT&T.