---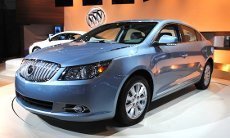 Hoping to get a jump on meeting tough new federal fuel standards, General Motors plans to introduce a new type of gasoline-electric hybrid across all of its future models, starting with the Buick LaCrosse sedan.
The LaCrosse will get the new technology, called eAssist, this summer and it will be introduced to other models over the next few years, according to Mark Reuss, GM's president of North American operations, who revealed the plans at a dealers conference in San Francisco.
Reuss said the new technology differs from the full-hybrid version used by Toyota and some other manufacturers. Instead of using an electric motor as the sole source of power under certain conditions, eAssist will use a compact electric motor to provide a power boost during acceleration.
Reuss said eAssist will provide a 20% to 25% increase in fuel efficiency in passenger cars. It will use a lithium-ion battery pack. The batteries will be recharged by energy generated during braking.
The 2012 Buick LaCrosse, a full-size sedan, will get up to 37 miles per gallon on the highway, 25 in the city, Reuss said. The base model will be equipped with a four-cylinder engine and an 11-kilowatt electric motor that will provide an additional 15 horsepower during acceleration.
Auto makers must reach a national fleet average of 35.5 miles per gallon by 2016to comply with new federal fuel standards.