---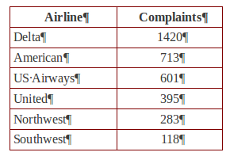 It hasn't been a very good year for Delta Air Lines or its passengers. Hoping for a better year in 2011, the airline is sending all 11,000 of its customer service agents back to school, hoping to retrain them to be at least civil if not downright polite.
Cynics would say it's about time. Delta had the highest rate of customer complaints filed with the U.S. Department of Transportation (DOT) in the first nine months of 2010 and was second-to-last in on-time arrivals and baggage handling through last November.
Delta is also the unquestioned leader in complaints to ConsumerAffairs.com, with more than 1,400 complaints, roughly twice as many as second-place American.
Cristina of San Diego is one of those disgruntled passengers. Cristina and her one-year-old baby showed up at the Minneapolis airport to board a 7:10 pm flight to Toronto. The flight was delayed and finally canceled. Cristina was stuck at the airport until 10:00 pm.
"I expressed to the gate agents that my baby was out of food and out of diapers and she was getting a cold. The gate agents showed absolutely no regard and actually ignored my concerns completely," Cristina said in a complaint to ConsumerAffairs.com. "My flight was rescheduled for the next morning at 6:35 AM but it was delayed by 2 hours again
"My child caught a fever the next day, I also spent about $180 out of pocket for a hotel + cab + food. I submitted a complaint form to Delta over 1 month ago and never received a response," she said.
Mistreating the disabled
Just yesterday, Delta was assessed a $2 million civil penalty for violating rules protecting air travelers with disabilities, the largest non-safety-related penalty ever assessed against a U.S. airline.
Delta not only produced a planeload of complaints from disabled passengers, it also failed to provide an adequate written response to many of them, DOT said.
The employee retraining may not be very long – just one day – but Delta promises it will be intensive. Employees will be reminded that their job is to assist passengers, not just get rid of them, a Delta official said.
Whether one day will be enough may be open to question. Delta has ruffled a lot of feathers among its customers.
"Delta obviously does not care about it's customers and actually went out of their way to screw me and many other travelers," complained Ashley of Lakewood Ranch, Fla., after her flight was canceled and she was stranded in Atlanta with no assistance from Delta.
"Whether they were clueless or apathetic, either way it looks bad for Delta,"she said of the Delta workers who ignored her requests for information and assistance.
And then there are the "elite" passengers – the relative handful of frequent flyers who contribute more than a quarter of the airline's revenue. Employees will be reminded to treat road warriors like the professional travelers they are.
Other issues
Of course, not all of Delta's problems can be blamed on its employees. The airline has been trying to integrate the operations and staff of Northwest Airlines after their merger and it's been a year of bad weather, high fuel costs and so forth.
Delta admits it has sometimes been slow to repair airplanes because of a lack of parts, leading to flight cancellations. Also, airports have been under-staffed and Delta says it is hiring an additional 1,000 workers to bolster front-line customer service.