---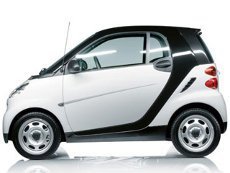 The Smart ForTwo car seemed like a smart idea at the time but corporate parent Daimler AG has decided it's time to make some even smarter moves.
It's taking back Smart car distribution in the United States from the Penske Automotive Group and turning it over to its Mercedes-Benz division. It has also scrapped plans for the Quattro – no, not a four-wheel drive Smart, just a four-door one.
Penske launched the Smart ForTwo in the U.S. In 2008 and it shot off the line, selling 24,622 cars in 2008, but quickly fell behind the pack and sales fell 59 percent to 5,927 in 2010.
Mercedes-Benz USA CEO Ernst Lieb said bringing the Smart under the Mercedes banner will give the company more leverage in meeting the tough new U.S. fuel economy standards that take effect in the 2016 model year. Automotive News reported.
The little fuel-sipper will help compensate for some of the dreadnoughts in the Benz fleet, pulling down the overall corporate fuel economy.
Smart dealers who are not also Mercedes-Benz dealers will be terminated as part of the deal, and Smart cars will be sold exclusively by Mercedes-Benz dealers.