---
New York State Acting Agriculture Commissioner Darrel J. Aubertine is alerting consumers to undeclared peanuts in Dry Fruit "Kachori", packaged and distributed by Maya Overseas Food Inc., located in Maspeth, New York.
People who have severe sensitivity to peanuts may run the risk of serious or life-threatening reactions if they consume this product.
The recalled Dry Fruit "Kachori" are packaged in an 8.75-ounce, cardboard box. There is no apparent production code on the package.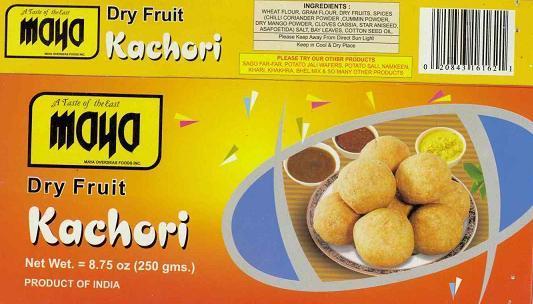 Product distribution includes 13 states (NY, FL, NJ, CT, MA, VA, NH, NC, VT, DE, MD, GA, PA) and Puerto Rico.
Routine sampling by New York State Department of Agriculture and Markets' food inspectors and subsequent analysis of the product by the New York State Food Laboratory revealed the product contained peanut allergens, which were not declared on the label.
No illnesses have been reported to date to the department in connection with this product.
Consumers who have purchased Dry Fruit "Kachori" may return to place of purchase or discard the product. Questions about the recalled product should be directed to the distributor at (718) 894-5145.