---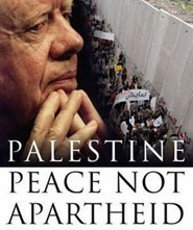 Former President Jimmy Carter has become a somewhat controversial figure in recent years, from his comment that George W. Bush's international relations were "the worst in history," to his 2008 meeting with the leader of Hamas.
His book Palestine: Peace Not Apartheid, published in 2006, also sparked outrage, with critics charging that use of the word "apartheid" was insensitive and disrespectful, and taking issue with many of the book's statements, such as Carter's assertion that "Israel's continued control and colonization of Palestinian land have been the primary obstacles to a comprehensive peace agreement in the Middle East."
Now a group of Carter's detractors have filed suit against the 39th President of the United States, alleging that the book was falsely marketed as "the absolute truth" on the subject of peace negotiations between Palestine and Israel.
The suit, filed in federal court in New York, also names Simon & Schuster, which published the book, as a defendant.
Suit: Book contains "demonstrable falsehoods"
The action says that Carter's book contains "demonstrable falsehoods, omissions, and knowing misrepresentations designed to promote Carter's agenda of anti-Israel propaganda," and that Simon & Schuster has refused to issue corrections despite "irrefutable proof" that the book contains falsehoods.
"You cannot market it as the absolute truth on something when it's not," David Schoen, the attorney who filed the suit, told The New York Times in an interview. "There is an ongoing debate about the Mideast, and to misstate, mislead and misconstrue those things intentionally is a very grave, bad act."
Schoen says that criticism of the book by scholars like Dennis Ross, a longtime U.S. diplomat, and Kenneth Stein, who left the Carter center after calling the book "replete with factual errors," shows that the suit is meritorious.
Schoen: Look at Frey suit
Schoen says that the successful lawsuit against James Frey -- whose book A Million Little Pieces was marketed as a memoir but was later revealed to contain a number of altered facts -- is proof that his suit will succeed. But the plaintiffs won that suit only because Frey and publisher Random House agreed to settle, not because a jury agreed with the plaintiffs' contentions. It is unclear whether Schoen will be able to obtain a similar result.
Adam Rothberg, a spokesman for Simon & Schuster, issued a statement calling the suit "frivolous [and] without merit."
The suit "is a transparent attempt by the plaintiffs, despite their contentions, to punish the author, a Nobel Peace Prize winner and world-renowned statesman, and his publisher, for writing and publishing a book with which the plaintiffs simply disagree," Rothstein said. "It is a chilling attack on free speech that we intend to defend vigorously."