---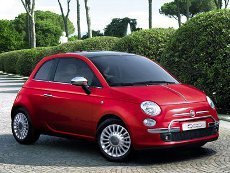 Chrysler is cautioning its newly-minted Fiat dealers not to act like a bunch of, well, car dealers.
The Fiat 500, about the size of a Mini Cooper, is leading Fiat's return to the U.S. and Laura Soave, brand manager for North America, wants dealers to make young customers comfortable in their showrooms.
Among other things that includes low-pressure, fixed-priced selling, the approach pioneered most notably by the now-defunct Saturn brand, whose dealers resolutely refused to engage in the dickering and haggling common to most dealers.
Fiat is aiming its sporty little cars at younger customers (older ones probably wouldn't be able to get in and out of it) and Soave says younger Americans don't like haggling. In fact, she says, they hate it.
"The pricing is the pricing," Soave told Bloomberg. She also warned dealers not to advertise prices lower than the manufacturer's suggested retail price. Chrysler has strictly limited the number of Fiat dealers to prevent them from staging price wars among themselves.
Chrysler is bringing dealer representatives together for training next month. It wants to be sure salespeople understand the cars and can function effectively as the customer's contact point for service and any problems they may encounter.
Service, or the lack thereof, was high on the list of Fiat's problems during its previous tenure in North America. Although Fiat had many fanatical followers, the little cars were not as reliable as competing European imports, most notably Volkswagen, and the dealer network left something to be desired.
One & only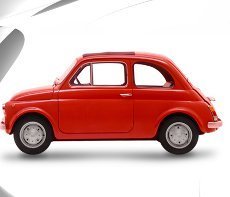 Though perhaps not familiar to most Americans, the Fiat 500 was to Italians what the VW Beetle was to the Germans after World War II. The country's first postwar mass-market car, the spirited little 500 helped Italy recover from the devastation and grief the war had left behind.
Today's version of the 500 is sold in more than 80 countries. It was named 2008 European Car of the Year and 2009 World Car Design of the Year.
It's been adapted for the American market with devices that are still seen as puzzling oddities to Europeans – most notably automatic transmissions and cup holders. It also gets a bigger engine, with about 100 horsepower, and a reworked suspension thought to be more suitable for tender, and perhaps slightly oversized, American derriers.
Environmentalists are expressing mild outrage over what they see as disappointing gas mileage for the little cars. With a five-speed manual transmission, the 500 is rated at 30/38 mpg, while a six-speed automatic slugs it down to 27/34.
The expected mileage is quite similar to BMW's Mini Cooper, however. With a manual, the base Mini is rated at 29/37, with an automatic at 28/31. Premium fuel is required.
However, any Mini Cooper owner worth his or her salt will tell you the little cars are so much fun to drive that the last thing they worry about is their mileage. The exhaust sound with a little extra juice applied to the accelerator is so sweet, it's worth the few extra dollars. Likely the same will be true of the Fiat 500.
(Shameless disclosure: The writer owns not one but two Minis and has owned more Fiats and Alfa Romeos than he can count, but who's biased?)