---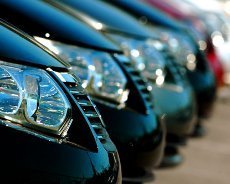 Any conscientious car owner would respond to a recall notice and have his vehicle fixed right away, right? Well, yes, unless that car owner was a rental fleet.
According to a survey commissioned by federal safety regulators, the big three in the rental car business -- Hertz, Enterprise which owns National and Alamo, and Avis/Budget – since 2006 have let tens of thousands of drivers go on the road without repairing defects.
Automakers told federal regulators that rental companies typically repair fewer than one-third of recalled cars in the first month after the recall is issued. Even after a full year, the figure is only 50 percent.
"The bottom line shows that none of the rental car companies are doing a good job," Clarence Ditlow, executive director of the Center for Auto Safety, said in an ABC News broadcast.
Perhaps even more surprising, there's nothing illegal about renting out recalled cars without bothering to fix them or tell customers about the risk they're taking. There's no law, after all, that says a car owner has to respond to recalls.
The alarming figures came from General Motors and Chrysler and were provided to the National Highway Traffic Safety Administration (NHTSA), which is looking into the issue. Ford, which has a long history of delaying recalls even in such life-threatening instances as unattended engine fires, refused to share its statistics with the feds.
No industry standard
If all this sounds pretty surprising to you, it sounds like business as usual to the American Car Rental Association (ACRA).
"Although ACRA does not maintain an industry standard for recalls, and each member company follows its own pre-established operating guidelines, in most cases, members place a 'hold' on recalled vehicles so they are not rented until the recall work is completed," said ACRA president Bob Barton in a recent posting on the association's website.
Besides, said Barton, "Most recalls issued by manufacturers do not require the owner of the vehicle (whether it be a rental company, leasing company or a private individual) to ground a vehicle and cease operation."
Barton, however, said that if given earlier notice of recalls, rental companies might be able to respond more quickly.
Ditlow has noted that there can be "months of delay between the time a manufacturer notifies NHTSA about a defect and when vehicle owners are informed of a recall" and has suggested that NHTSA could require car makers to notify rental companies sooner."
That would be "a positive step towards helping our members in their commitment to providing customers with vehicles that are safe to drive," Barton said.
Enterprise has best record
The best overall performance in the NHTSA survey came from Enterprise. In a study of 10 General Motors and Chrysler recalls between 2006 and 2010, after 90 days, Enterprise had fixed an average of 65 percent of the cars subject to the recall.
For Avis/Budget, 53 percent of the cars were fixed . At Hertz, only 34 percent of the cars rented 90 days after a recall had been fixed.
The NHTSA study was launched after a widely-publicized accident in which two California sisters were killed when their Enterprise rental car caught fire and hit an oncoming semi-trailer truck on Highway 101 in Northern California. The car, a Chrysler PT Cruiser, had been recalled a month earlier because a possible power steering fluid leak could cause a fire.
The family sued Enterprise and won a $15 million award. The girls' mother is now lobbying the California legislature to require rental car companies to ground all recalled cars until they are fixed. The Center for Auto Safety has petitioned the Federal Trade Commission to require Enterprise to fix recalled vehicles before renting them out.