---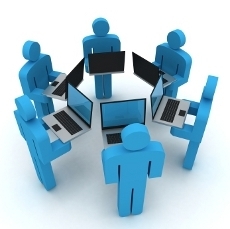 Social networking has made it easier for more people to keep in touch with other -- and kill time at work. But but the results from a new survey reveal more and more, social media are helping people, too.

Two in five of those asked said they have received a good suggestion for something to try as a result of their use of social media (40 percent), 15 percent said social media helped them make a connection regarding a job opportunity, and one in ten said they have found a new apartment or house through their social media use (nine percent).

These are some of the results of The Harris Poll of 2,331 adults surveyed online between December 6 and 13, 2010 by Harris Interactive.

The poll found a majority of U.S. adults are currently using social media (65 percent), and also, a similar number said they have received a positive benefit from its use.
Skews young
However, younger users tended to cite more positive outcomes resulting from their social media use than older adults.

For example, 59 percent of Echo Boomers (adults ages 18-to-33) say they have received a positive suggestion for something to try from their activity on social media, versus 44 percent of Gen Xers (those 34-45), 34 percent of Baby Boomers (those 46-64), and just 19 percent of Matures (those 65 and older).

Similarly, 24 percent of Echo Boomers have found a job opportunity through social media while only 11 percent of Baby Boomers said the same.

Despite all of the benefits people are receiving, similar numbers said they have also suffered negative consequences from social networking.
The downside
Forty-three percent of social media users said they have been offended by posts, comments or pictures they've seen and 26 percent said that unintended persons have viewed links or comments they've posted.

Fewer social media users say they have suffered the more serious consequences of getting in trouble with school or work, or losing a potential job opportunity because of comments or pictures they posted online (seven percent for both).

Despite younger users receiving benefits from social media use more often than older adults, those who are younger are more likely to suffer the consequences of social media use at a greater rate.

This may be due, in part, to the fact younger people spent more time on social networks overall, which could expose them to both the benefits and consequences of what's currently available.

As more people use social media and the services continue to expand, the potential benefits of use grow, as do the possible consequences.
Privacy otions
And as a result, social media networks are offering more options for privacy in an effort to combat the negative experiences some users have already experienced, and to prevent others from taking place.

When social media users were asked if potentially negative experiences can be prevented through the use of these privacy settings, 78 percent agreed they can be -- with 28 percent strongly agreeing.

In addition, 71 percent of social media users said they are confident their own privacy settings operate the way they're supposed to, but only 18 percent said they are very confident (18 percent).

While a quarter of social media users are not confident in their privacy settings (25 percent), it seems almost all of them are at least using them; only five percent say they do not use any privacy settings at all.

Similar to the other areas of social media explored, younger adults users feel more strongly both that privacy settings can prevent negative consequences (82 percent of Echo Boomers vs. 70 percent of Matures) and that they are confident in their own privacy settings (78 percent of Echo Boomers vs. 61 percent of Baby Boomers).
User familiarity
Whether social networking will start to bring more good than bad in the future, or vice versa, is anyone's guess.

As social media users become more adept at understanding the nuances of how things work online and using privacy settings, there's a chance the benefits will eclipse the consequences.

However, there is also a possibility that as more people use social media, and do so casually, that they will become more careless with their privacy settings and the seven percent who have suffered more serious consequences will grow.
As The Harris Poll said, summing up their findings, "It's up to each and every user."