---
In what could potentially be the first major step in battling the obesity epidemic, Walmart, the nation's largest grocer, has announced a comprehensive plan to provide its customers with healthier and more affordable food choices.

Joined by First Lady Michelle Obama at an event held in Washington, D.C., Bill Simon, president and CEO of Walmart U.S. and other company execs outlined the five key elements of the new program:
Reducing sodium by 25 percent, sugar by 10 percent, and removing all industrially produced trans fats from various everyday packaged foods -- produced by national brands and their own Great Value private brand -- by 2015.
Making healthier foods more affordable by altering a variety of transportation and logistics, sourcing, and pricing initiatives and dramatically reducing or eliminating the price premium for healthier food options (like whole wheat items or foods with reduced sodium, sugar, and fat). Walmart says this will save customers approximately $1 billion per year.
Developing strong criteria for a simple front-of-package seal that will help consumers instantly identify truly healthier food options such as whole grain cereal, whole wheat pasta or unsweetened canned fruit.
Providing solutions to address food deserts by building stores in underserved communities that are in need of fresh and affordable groceries.
Increasing charitable support for nutrition programs that help educate consumers about healthier food solutions and choices.
Simon said no family should have to choose between food that is healthier for them and food they can afford and that Walmart is "uniquely positioned to make a difference by making food healthier and more affordable to everyone."
First lady's leadership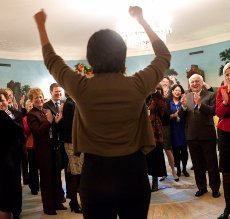 Walmart's new program plans to build on the first lady's "Let's Move" campaign to make healthy choices more convenient and affordable for families.

"We applaud First Lady Michelle Obama's leadership and commitment to this important cause," said Leslie Dach, executive vice president of corporate affairs at Walmart. "Few individuals have done more to raise awareness of the importance of healthier habits, especially among children, than she has."

Dach said the first lady, shown here at a Dec. 13, 2010 reception following reauthorization of the Child Nutrition Bill, was a catalyst that helped make Wal-Mart's announcement a reality. (White House photo).

"Her spirit of collaboration made our commitment to bring better nutrition to kitchen tables across this country even stronger."
Product reformulation
Walmart says it plans to reformulate key product categories of its Great Value private brand and collaborate with suppliers to reformulate national brands within the same categories by 2015.

The effort is designed to help reduce the consumption of sodium, sugar and trans fats, which are major contributors to the epidemic of obesity and chronic diseases in America today, including high blood pressure, diabetes and heart disease.

The reformulation initiative includes three components:
Reduce sodium by 25 percent in a broad category of grocery items, including grain products, luncheon meats, salad dressings and frozen entrees;
Reduce added sugars by 10 percent in dairy items, sauces and fruit drinks; and
Remove all remaining industrially produced trans fats (partially hydrogenated fats and oils) in all packaged food products.
Walmart said reformulating these products could benefit millions of consumers, whether they shop at the mega-chain or not.

"Our customers tell us they want a variety of food choices and need help feeding their families healthier foods. At Walmart, we are committed to doing both," said Andrea Thomas, senior vice president of sustainability at Walmart.
Price reductions
Walmart also plans to bring down the cost of produce by establishing more cost-effective ways to find, price, and transport it. One way to do this, said Walmart, is to establish more direct relationships with farmers.

When it comes to pastas, crackers, cereals, and other boxed or bagged foods, Walmart said it plans dramatic reductions or eliminattion of price differences between "regular" versions and their healthier counterparts.

"Our customers often ask us why whole wheat pasta sometimes costs more than regular pasta made by the same manufacturer," said Thomas. "We will use our size and scale to reduce the price premium on these types of products whenever possible because customers shouldn't have to pay more to eat healthier."
'Food deserts'
The company also says it is a a business priority to find innovative ways to provide fresh and affordable groceries to people in urban and rural communities across America that are living in food deserts.

"As we continue to expand in the U.S., we are focused on developing new formats and new approaches that will offer underserved communities fresh and affordable food options where they are needed most," said Simon.

With all these changes ready to begin, Thomas said Walmart is not planning to tell consumers what and what not to eat.

"Our customers understand that products like cookies and ice cream are meant to be an indulgent treat. This effort is aimed at eliminating sodium, sugar and trans fat in products where they are not really needed."
The reaction
The news of a Democratic first lady giving the stamp of approval to a huge corporation like Walmart has sent many Internet bloggers into a tizzy of speculation: will Walmart actually do anything or could this be an easy way for them to expand into major cities?

That, of course, has yet to be seen. For now, focus seems to be on the possibility of major, positive change in America's current food industry.

Michael F. Jacobson, executive director of the nonprofit Center for Science in the Public Interest said he applauds Walmart for "moving the food industry in a healthier direction."

"Walmart's action should virtually eliminate artificial trans fat and significantly reduce salt in packaged foods, and, most importantly, prevent thousands of fatal heart attacks and strokes each year," said Jacobson.

James R. Gavin III, M.D., Ph.D., Chairman of the Partnership for a Healthier America, commends for taking "an important step forward" in addressing America's obesity epidemic.

"In order to successfully make our children and families healthier, we need the private, public and non-profit sectors to come together in meaningful and measureable ways," said Gavin. "This initiative is a positive example of what companies can do to help American families tackle the serious problem of childhood obesity."