---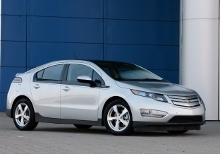 General Motors is putting the hammer down and says it will launch the Chevrolet Volt in all 50 states by the end of the year. It had planned to roll out the Volt in only six states this year but is stepping up production because of increased interest from customers, said Rick Scheidt, Chevrolet vice president of U.S. marketing.
Volt deliveries began in December and initial plans were to sell the nearly-all-electric car in California, New York, New Jersey, Connecticut, Texas and Michigan this year.
But Scheidt said customers will be able to order Volts from dealers nationwide beginning in April. Deliveries will begin in Virginia, Maryland, Delaware, Pennsylvania, North Carolina, South Carolina, Georgia, Florida, Oregon, Washington and Hawaii in the third quarter.
"This is the right thing to do for our customers and our dealers who are seeing increased traffic onto their showroom floors," Scheidt said.
Plug-in Prius
Toyota is racing to get its plug-in Prius model ready for a retail launch next year. As part of its development process, the company has loaned 163 plug-in Priuses to universities, utilities and Zipcar and other car-sharing services.
During the tests, the Priuses will be periodically examined by Toyota dealers, who'll perform data downloads to analyze driving and charging patterns.
The plug-in Prius – called the Prius PHV – currently has a 13-mile EV-only range and can be charged from a standard 110-volt outlet in about three hours.
Once its EV-only range is exhauster, it gets about 50 miles per gallon in "regular hybrid" mode.
Volvo V60
Volvo says it's preparing to unveil a plug-in diesel-electric hybrid, based on the V60 station wagon, at the Geneva auto show in March. Volvo says the car gets the equivalent of 124 miles per gallon and can be driven up to 31 miles using electricity only.
The V60 hybrid is scheduled to go into production in 2012.