---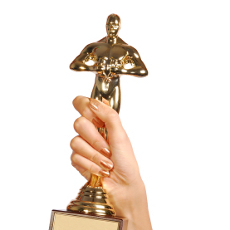 If there was an Oscar for best credit card of the year, the PenFed Platinum Visa Card would be among the nominees, according to CardRatings.com.
The credit card rating website recently released what it considers to be the worst and best credit cards of 2010.
The editors of the credit card comparison site said that among the worst were those cards with high rates, high fees and little disclosure while those rated the best "bucked a trend toward fewer rewards and higher fees" while offering " value, service, and convenience."
Among the cards cited for the editors' worst credit Cards of 2010 were a new First Premier MasterCard that had a whopping 79.99 percent A.P.R. It was cited for having the highest interest rate. Also among the worst was that short-lived pre-paid debit card endorsed by the Kardashians which they said was also the most hated card.
As for the best in the cash-back category editors said the PenFed Visa Platinum Cashback Rewards Card and the Fidelity Investment Rewards American Express Card were at the top. In the airline and travel credit card category, the PenFed Premium Travel Rewards American Express Card and Capital One Venture Rewards Credit Card were rated the best.
The Simmons Visa Platinum and the PenFed Promise Visa Card, meanwhile, were cited as the best low-interest rate cards and the Citi Platinum Select MasterCard and the Discover More Card were cited for being the best low-introductory rate credit cards. CardRatings.com, meanwhile, cited the Chase Sapphire Card and Zync from American Express for being the best reward point credit cards.
Every year, CardRatings.com publishes its Editor's Choice Awards for best and worst credit cards. This year, the Consumer's Choice Awards make their debut.
Best cards
The best credit cards of 2010 by category, as rated by consumers, are:
Best Cash Back Credit Card: Blue Cash from American Express
Best Airline Credit Card: Blue Sky from American Express
Best Reward Points Credit Card: Chase Sapphire Card
Best Value Credit Card: USAA World MasterCard
Best Customer Service: American Express
Worst cards
Curtis Arnold, founder of CardRatings.com said that despite the fact that most credit cards have become much more attractive in the past several months, there have been a few credit card offers that have not followed suit and are in fact what some consumer advocates would label as downright rip-offs. Avoid these cards like the plague and, if you do, you will be glad you did in 2011.
The worst credit cards of 2010, as rated by CardRatings.com, are:
Highest Interest Rate: First Premier MasterCard
Most Hated: Kardashian Kard
Least Disclosure: Best Buy Reward Zone MasterCard
Most Expensive Way to Rebuild Credit: Applied Bank Unsecured Visa Gold Card