---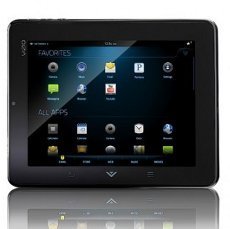 It was just a few years ago when an unknown company named Vizio came out of nowhere and within a very short time became a dominant player in the high-definition flat-screen television market. Now, that television company is about to enter two new battlefields, the tablet computer and the smart phone.
If Apple, which has seemed oblivious to all previous announcements about new PC powered tablets isn't worried, maybe it should be. Today, Vizio is a top seller of high definition televisions and it did it by offering at least passable performance at a lower price than Sony, Panasonic and Samsung which had previously owned the market.
So when Vizio announces that it's coming out with a new tablet, called the VIA, that has an eight-inch high resolution touchscreen with three speakers for stereo audio, in portrait or landscape mode, and a front-facing camera for video chat, then all the other players should take notice.
Not without problems
Vizio's growth has not been without problems, though. It is one of the top complaint magnets in ConsumerAffairs.com's Home Electronics section, with nearly 500 complaints from consumers whose flat-screen sets fizzled out, in some cases right out of the box and in others are a year or two of service.
"One day the television worked fine, the next day nothing came on the screen but there was sound. I've only had the TV 2 years, hardly use it," said Rebecca of Mokena, Ill. .
Ronald of Westchester, Calif., is no stranger to Vizio failures. He reported that he bought a Vizio TV from Costco four years ago. But when he took it home and plugged it in, the screen was blank. The company shipped him a replacement within two days and he was a happy camper.
But then, more than four years later, the same thing happened. This time, Vizio was no help, telling Ronald his TV was out of warranty.
"I do not believe the lifespan on a TV should be allowed only four years," Ronald said.
Such incidents are not unique to Vizio, however. In fact, while 480 consumers have complained to date of Vizio problems, pricier Samsung has racked up nearly three times as many complaints – 1,250 at last count. Sony has 490, Panasonic 560.
While consumer complaints shouldn't be taken lightly, these figures would seem to indicate that Vizio's quality – while perhaps not superlative – is at least equivalent to that of its higher-priced Asian competitors.
Heavy on features
At the very least, Vizio is providing strong competition in terms of specifications and features. The Vizio VIA smartphone features a four-inch high-resolution touch-screen with 5-Megapixel camera for photos and HD video capture, and a front-facing camera for video chat. Both devices include high definition video playback with HDMI video output, high quality audio processing and built-in universal remote control app that make these the ideal handheld companions to the HD entertainment experience. They both run on Google's Android Platform.
Vizio, headquartered in Irvine, California, became the first American brand in over a decade to lead in U.S. TV sales.
Matthew McRae, Vizio's chief technology officer, declined to provide prices, but said the company's strategy will be to make affordable products with innovative features. Meanwhile, other companies like Toshiba, Research in Motion, Motorola, Microsoft and Hewlet Packard will be introducing new tablets at this year's Consumer Electronics show, which begins Thursday in Las Vegas.
Industry analysts will be looking at such features is the ability to watch high-quality video including 3D.
Industry analysts predict more than 24 million tablet computers will be sold in the United States this year, up from 10.3 million in 2010. The research firm IDC expects to see 42 million tablet sales worldwide in 2011.
As of October, Apple had sold 7.46 million iPads worldwide, according to the company's last reported figures. It had virtually no competitors all year, until the Samsung Galaxy Tab became available in November. Samsung says it has sold 1.5 million Galaxy Tabs since then.
Many companies are withholding the specifics of their tablets until they are formally introduced. But those who have discussed their plans say they will both offer specific features that the iPad is lacking, and undercut their competitors on price. Competitors will be trying to distinguish themselves by price.
Enspert, a Korean manufacturer, is planning to introduce an Android tablet with a seven-inch screen for under $350 and sell it in the United States this year. By the end of the summer, the tablet, the Identity Tab, will also be available with a data plan through a major wireless carrier for about $100.
Vizio says its small size keeps the company nimble and keeps its costs down. For example, it says it developed the new phone and tablet over the past year and a-half by a team of fewer than 10 people.
A key part of Vizio's strategy is to make it easy for customers to access Internet services across all of its products. The interface on the tablet and phone will have the same look and feel that the company uses on its TV sets. The new products will have ports for HDMI connections too, so the tablet and phone can be hooked up to TV sets to display high-definition video on the bigger screen.
The devices also will provide access to Vizio's Via Plus Internet service, which lets users access apps such as Netflix streaming movie downloading service, the Android Market and the Facebook and Twitter social-networking sites.