---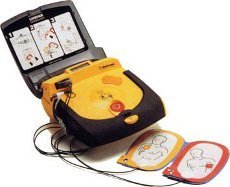 Nearly 300,000 Americans collapse from cardiac arrest each year. Quick response by medical personnel and bystanders using automated external defibrillators (AEDs) save some of them, but the U.S. Food and Drug Administration says there are too many instances of faulty and malfunctioning defibrillators.
An FDA advisory panel has been studying the issue, amid reports that there have been more than 28,000 reports of defibrillators failing and at least 68 recalls issued involving hundreds of thousands of the devices over the last five years.
Some of the malfunctions have caused or contributed to patient deaths, the FDA said, and a report found that the number of problems has been increasing over the last few years.
Even as malfunctions and recalls increase, the medical devices industry has been pressing for less strict regulation, a suggestion the FDA has so far rejected.
"While the FDA continues to advocate use of these important life-saving devices and is not recommending any change to current clinical practices, we believe the devices can be improved in ways that improve patient safety," the agency said in a statement.
Testifying before the advisory panel, Dr. Michael Carome, deputy director of Public Citizen's Health Research Group, said 17 of the recalls were serious enough to be Class I recalls, involving situations in which there is a reasonable probability that using the product will cause serious injury or death.
Collectively, these 17 Class I recalls alone involve well over 100,000 AEDs and have resulted in deaths or life-threatening situations for many patients, Carome said.
"In the interest of protecting public health and promoting innovation, it is imperative that FDA reject industry wishes" and maintain strict regulation of the design and manufacture of the devices, Carome said, adding that applications for new designs "must include data from robust clinical trials that reasonably assure that AEDs are safe and effective."
In a related development, a Read more finds that cardiac arrests that can be treated by electric stimulation, also known as shockable arrests, were found at a higher frequency in public settings than in the home. Read more