---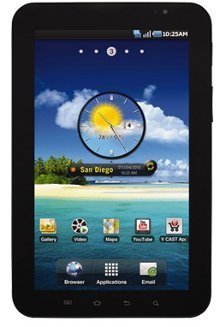 The tablet competition got more crowded today when T-Mobile started selling the Samsung Galex Tab. Verizon Wireless begins selling the tablet computer tomorrow.
Sprint will begin selling the product November 14.
Verizon will sell the Galaxy Tab for $599.99. The T-Mobile price, with a two-year agreement, is $399.99.
The handheld device runs the Android 2.2 system and features a seven-inch touch screen. It comes with a Web browser and has full support for for Adobe Flash 10.1 for video and mobile gaming; and a 1GHz Cortex A8 Hummingbird Application processor.

"This is an incredible time in mobile technology, and as a company we're excited to add the Samsung Galaxy Tab to our portfolio," saidMarni Walden, vice president and chief marketing officer for Verizon Wireless. "The Samsung Galaxy Tab brings together the reliability of Verizon Wireless' 3G network and the power of Android 2.2 to deliver on our promise of providing consumers and business customers with a host of options to help manage their lives."

Popular mobile applications, including V CAST Music and V CAST Song ID, VZ Navigator, Slacker Radio, Kindle for Android, BLOCKBUSTER On Demand presented by V CAST Video, and the exclusive golf game, 'Let's Golf,' will be available on the Samsung Galaxy Tab. In addition to text, picture and video messaging, the Samsung Galaxy Tab will also feature V CAST Apps, Verizon Wireless' mobile storefront offering hundreds of applications for businesses and consumers at launch.

Verizon Wireless customers can add a monthly access plan beginning at $20 a month for 1 GB on their Samsung Galaxy Tab.
Faster speed
T-Mobile says its HSPA+ mobile broadband network will deliver a speed boost allowing the 3G-enabled device to load Web pages and videos even faster than in areas of 3G coverage. The company calls is a complete entertainment device.
"Customers want richer, deeper interactions with entertainment and online content through connected, portable mobile broadband devices that are small enough to carry and big enough to share with friends and family," said Jeremy Korst, director of broadband products and services, T-Mobile USA. "T-Mobile's unique offerings on the Galaxy Tab paired with the power of T-Mobile's new network allow us to bring a truly differentiated portable entertainment offering to market."
The Galaxy Tab is widely viewed as competition for the iPad, which is mostly used on AT&T's network, though Verizon will soon begin selling a model. Time Magazine technology writer Harry McCracken says the Galaxy is not as polished and complete as the iPad. But he says in many ways it's different, offering consumers "a genuine choice, not an echo."