---
If you receive an email claiming to be from Facebook Support, telling you your password has been changed and the only way to see your new one is to download an attached .zip file, DO NOT download the file. It's yet another Facebook phishing scam.
The email has been arriving in Facebook users' inboxes this week. The subject line and content of the email vary slightly, perhaps in the hopes of throwing off as many unsuspecting users as possible.

The subject line reads: "Facebook Service. Your password is changed. ID510"
The body of the email reads:
"Dear client!
A spam is sent from your Facebook account. Your password has been changed for safety.

Information regarding your account and a new password is attached to the letter.

Read this information thoroughly and change the password to a complicated one.

Thank you for your attention,
Facebook Service."
In our email, the .zip file is called "Facebook_document_Nr0845.zip" although it could be named something slightly different in other emails.
But whatever it's called, that attachment is not your new password. It's a Trojan horse virus.
Graham Cluley of Sophos Security thinks hackers could be taking advantage of a recent Facebook bug that inadvertently disabled hundreds of valid accounts earlier this week.
"Reportedly many of the complaints against Facebook users were that they were using an 'inauthentic' name, and they were asked to upload a government-issued ID (such as a passport), ensuring that their full name, date of birth, and photograph were clear," said Cluley.
"You can understand why many Facebook users would be nervous at the prospect of doing such a thing, especially when their Facebook account had not committed any breach of the social networking site's terms and conditions."
The gaffe, according to Facebook was an attempt to weed out spambot profiles. Since most spambot profiles typically contain pictures of sexy women and are "friends" with mostly men, many real women with valid profiles got locked out, too.
Facebook claims to have fixed the problem, but as late as yesterday evening, complaints about being locked out of the social networking site were coming in to ConsumerAffairs.com.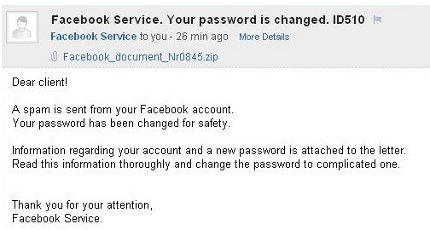 This is not the first password phishing scam showing up in Facebook users' emails.
Earlier this year, CNET.com reported of a similar scam email making the rounds, also containing a .zip file the user was urged to download.
The attachment contained a password stealing virus that targeted Windows computers and had the ability to access any username and password combination used on the computer, not just the login credentials for Facebook.