---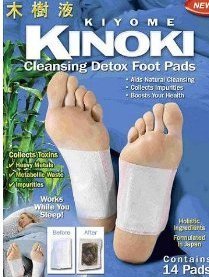 A federal judge has banned marketers of Kinoki "Detox" Foot Pads -- that would purportedly remove toxins from the body through a person's feet -- from selling a wide variety of products.
The Federal Trade Commission (FTC) charged that the marketers falsely claimed the pads could treat numerous illnesses and medical conditions. In a recently announced settlement, the judge banned the marketers from promoting or selling any dietary supplement, food, drug, or medical device, and from assisting others in doing the same.
As part of its efforts to crack down on bogus health claims, the FTC last year charged the promoters of the foot pads with running deceptive ads on television and the Internet that touted the "ancient Japanese secret to perfect health" for treating wide-ranging medical conditions. The defendants --Yehuda Levin and his company, Xacta 3000, Inc. -- sold a two-week supply of Kinoki Foot Pads for $19.95, plus $9.95 for shipping and handling.
Bogus claims
Xacta falsely claimed to have scientific proof that the foot pads removed toxic materials from the body, according to the FTC complaint. The company also advertised that when applied to the soles of consumers' feet at night, the food pads could remove toxins, metabolic wastes, heavy metals, and chemicals from the body; treat headaches, depression, parasites, fatigue, insomnia, diabetes, arthritis, high blood pressure, cellulite, and a weakened immune system; and cause weight loss.
In its complaint, filed in the U.S. District Court for the District of New Jersey on January 27, 2009, the FTC charged that these advertising claims were false or unsupported.
Levin and Xacta have agreed to a judgment of $14.5 million, which represents the total revenues from the sale of Kinoki Foot Pads. The entire judgment is suspended based on the defendants' inability to pay, but will become due if they are found to have misrepresented their financial condition.