---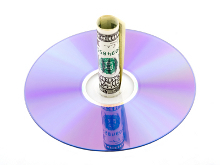 We've had the War on Terror and the War on Drugs and now, if a group of influential senators have their way, we'll soon have the War on Free Movies and Music.
At least it goes to show that in Washington, where the politicians like to stage mock battles to show the folks back home how serious they are about waging war on the other party, there's still room for compromise: a "bipartisan" group of senators led by Senate Judiciary Committee Chairman Patrick Leahy (D-Vt.) and senior Republican member Orrin Hatch (R-Utah) have introduced legislation that they say will "address the growing problem of online piracy and counterfeiting."
You didn't know this was a growing problem? Oh well, you must not be a record company or movie producer. You probably haven't had a chance to tell your senators what your growing problems are but ... well, you know, maybe someday.
Anyway, Leahy & Co. have introduced the Combating Online Infringement and Counterfeits Act which they say would "give the Department of Justice tools to track and shut down websites devoted to providing access to unauthorized downloads, streaming or sale of copyrighted content and counterfeit goods," according to Sen. Leahy's office, which noted darkly that such "illegal products" are offered through websites that are "often foreign-owned and operated."
Leahy's press release said intellectual property theft costs the U.S. economy more than $100 billion every year, according to estimates that weren't further identified. Many of these thefts amount to someone listening to a song or watching some or all of a movie online. Always unanswered is whether these entertainment-crazed pirates, their lusts unsated, later buy a CD, attend a concert or go to a movie so they can see or hear more of the "stolen" intellectual property.
Each year, online piracy and the sale of counterfeit goods cost American businesses billions of dollars, and result in hundreds of thousands of lost jobs, said Leahy. The Combating Online Infringement and Counterfeits Act will protect the investment American companies make in developing brands and creating content and will protect the jobs associated with those investments. Protecting intellectual property is not uniquely a Democratic or Republican priority it is a bipartisan priority.
'Jack-Booted Thugs'
But hold on there, pardner. Not everyone is saddling up for this posse. The Electronic Frontier Foundation (EFF) warns that caution should be the order of the day when it comes to shutting down Web sites and prosecuting alleged content thieves.
"Giving government agents a reason to censor, search, seize, and indict must be taken very seriously. Without safeguards and a thorough accounting of the consequences, laws and policies targeting so-called 'pirates' can be used to pry away human rights and undermine fundamental elements of democracy and freedom," said EFF's Richard Esguerra in a recent blog entitled Jack-Booted Thugs and Copyright Enforcement.
Esguerra noted that it was only last week that The New York Times broke the news that Russian authorities raided an environmental group's office and confiscated their computers, using as their excuse the allegation that the organization was using unauthorized copies of Microsoft software.
To its credit, Microsoft manned up and swiftly proclaimed that any software used by the group and its allies was licensed.
Esquerra notes that, shocking though the Russian incident was, the issue isn't limited to software. With perhaps Leahy & Co. in mind, he said that a "sprawling, powerful group-of-groups in the content industry, including movie and music industry lobbyists, software companies, and others, is constantly demanding that governments worldwide be given new powers to search for and seize allegedly pirated materials, and that those governments should act on those powers forcefully."
"In the name of copyright enforcement, the lobby shortsightedly demands provisions that put human rights at risk throughout the world: the power for governments to censor parts of the Internet with so-called copyright filtering, power for governments' border agents to search travelers' goods for "infringing" items, power for governments to detain alleged infringers pre-trial," Esquerra warned.
Other collaborators
The legislation is cosponsored by Committee members Herb Kohl (D-Wis.), Arlen Specter (D-Pa.), Chuck Schumer (D-N.Y.), Dick Durbin (D-Ill.), Sheldon Whitehouse (D-R.I.), and Amy Klobuchar (D-Minn.). Senators Evan Bayh (D-Ind.) and George Voinovich (R-Ohio) are also cosponsors.
The senators said the measure would:

• Give the Department of Justice an expedited process for cracking down on websites that are dedicated to making infringing goods and services available;

• Authorize the Department of Justice to file an in rem civil action against a domain name, and seek a preliminary order from the court that the domain name is being used to traffic infringing material. The Department must publish notice of the action promptly after filing, and it would have to meet clear criteria that focus on the sites substantial and repeated role in online piracy or counterfeiting;

• Provide safeguards allowing the domain name owner or site operator to petition the court to lift the order;

• Provide safeguards against abuse by allowing only the Justice Department to initiate an action, and by giving a federal court the final say about whether a particular site would be cut off from supportive services.