---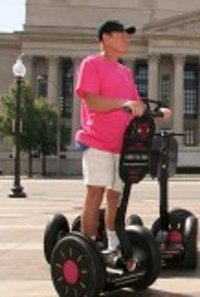 Injuries sustained while riding Segway transporters are significant and on the rise, according to a study of emergency department visits published online in
Annals of Emergency Medicine
.
The Segway may seem cool, but theres nothing cool about a head injury, said Mary Pat McKay, MD, MPH, FACEP, of George Washington University in Washington, D.C. One-quarter of the patients who came to our emergency department with Segway injuries were admitted to the hospital. Forty percent of the admitted patients were admitted to the ICU because they had traumatic brain injuries.
Researchers examined the records for 44 patients who came to the emergency department with injuries sustained while riding the Segway. Only seven percent of the patients had worn helmets, which are not required by law for Segway riders in Washington. The number of cases increased significantly over time, with three cases appearing in 2006, eight cases appearing in 2007 and 25 cases appearing in the first 11 months of 2008.
All of the injuries were sustained by riders simply falling off, mostly from striking an inanimate object, said Dr. McKay. Segways are pretty new to the marketplace and its often only as products become popular that the risks involved become apparent.
"We urge the Consumer Product Safety Commission to assign the Segway a unique product code and collect data on injuries sustained from riding the Segway so we can develop a clearer idea of the scope of the problem," McKay said. "In the meantime, all Segway riders should wear helmets and pay close attention to what is in front of and around them when riding.
Tourists on wheels
The Segways have become popular among tourists in Washington who want to avoid the endless treks from one gleaming pile of marble to the next. Besides being a danger to their users, they are also an increasing annoyance to pedestrians, bicyclists and motorists.
But the D.C. government is taking a jaundiced view of the irksome devices not because of safety considerations but because of the unlicensed tour guides who have been leading tourists around town on Segways.
D.C. requires tour guides to have a license. To get one, the would-be guide must pay $200 and pass a 100-question multiple-choice exam. This is intended to ensure that the guides don't pass on misinformation to their charges.
But at least one comapny, Segs in the City, has refused to apply for licenses for its guides. They have challenged the District's law on the grounds that it violates the First Amendment.
The Constitution does not allow the government to be in the business of deciding who is and who is not allowed to speak about various topics, said Robert McNamara, staff attorney at the Institute for Justice, declared: That is un-American, that is unconstitutional and we will put a stop to it, according to The Daily Caller.
Thanks
Keep an eye on your inbox, the lastest consumer news is on it's way!
Unsubscribe easily whenever you want