---
Finding a piece of metal in a bag of cat food would upset make most pet owners and make them leery of using the companys products again. But not Leslie K. of Tabernacle, New Jersey.
She says discovering a quarter-inch piece of metal in her cats bag of Petcurean Go! Natural dry trout food renewed her confidence in the Canadian company and its products.
Dont misunderstand. The recent discovery shocked and worried the cat owner.
When I saw the piece of metal it scared me, she told ConsumerAffairs.com. I saw it when I knocked the bag over ... I grabbed the piece of metal as my two cats were eating the food on the floor.
But Leslie says the way Petcurean handled her concerns has made her a loyal customer.
I received an immediate apology. They were concerned and said they were going to attempt to make sure it never happened again.
I didnt get the standard automatic response that many pet food makers give customers, like weve never had a complaint like before, or you did this, or that piece of metal must have been on the floor, she added. They took my concerns seriously and said they wanted to do something right away.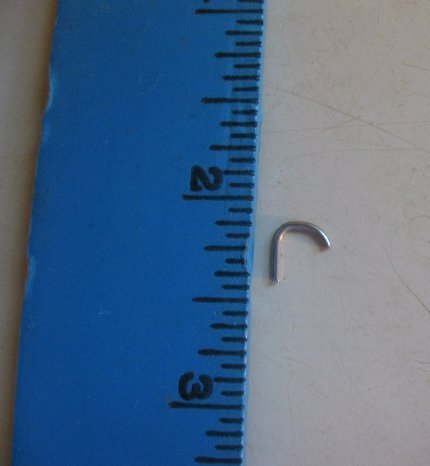 Piece of metal found in Leslie K's cat food. -- Photo supplied by consumer.
What impressed Leslie just as much is the speed in which the company addressed her concerns.
This happened around 1:30 or 2pm on Sunday (August 29), she recalls. I filled out Petcureans e-mail form and told them what happened. They contacted me around 5pm on Sunday and the first part of their response was an apology. They actually responded to me twice on a Sunday. They said they wanted more details and the piece of metal.
Leslie told the company shed already notified the Food and Drug Administration (FDA) and the New Jersey Department of Agriculture about the incident.
I told Petcurean they could have the piece of metal as long as it was okay with the FDA and the Department of Agriculture, she says. The company said that sounded good and told me they understood why I would notify other people.
Asked to compare Petcureans response to the way other pet food makers handle customer complaints, Leslie told us: Its like night and day.
Lets compare this to Mars handling of the recent complaint about a dead toad in a can of Pedigree dog food, she says. Mars was implying that the pet owner did this (put the toad in the food). And that struck me as same standard line that almost everyone gets who has ever had a problem with pet food.
Petcurean, on the other hand, was standing up for its product and doing the right thing.
Its a good lesson for pet food makers nationwide, she says. Im certainly impressed with how Petcurean handled my case. And I wont buy anything made by Mars because I dont do business with companies who deal with customers the way Mars does.
A spokeswoman for Petcurean told us the company took Leslies concerns seriously and immediately launched an investigation.
At this point in time, we have not received any other complaints of this nature and it appears to be an isolated incident, said spokeswoman Michele Dixon. When we receive the piece of metal in question, we will begin a thorough investigation on behalf of our customers and our company.
Petcurean, she said, will test the metal to determine its composition.
If the contamination originated at our facility, we can then determine ways to prevent future issues.
The companys quality control methods include a four-point screening process specifically for possible metal contamination, Dixon said.
This lot of cat food (Go! Natural Grain Free Trout Formula, Best by date Dec 16 10, 91016 2B42258, UPC 15260 00040) successfully passed our four critical control points ... We are now awaiting the metal sample to complete our full investigation.
Back in New Jersey, Leslie told us she sent Petcurean the piece of metal earlier this week.
The Department of Agriculture didnt want the metal and neither did the FDA, she says. I notified them because if there are more (metal pieces) in other bags I didnt want anyones pets to be harmed. Will she feed her cats Petcurean products again?
I already am, Leslie says. I am feeding another one of their dry foods as a treat to my cats. Any company can have an accident. Its how the company deals with it that matters to me. And Im impressed with how Petcurean dealt with me.