---
Tests by a Canadian pet food maker revealed the piece of metal a New Jersey woman recently found in her cats' food was part of a paper clip.
But how that quarter-inch piece of metal ended up in a bag of Petcurean Go! Natural dry trout food remains somewhat of a mystery.
We dont have paperclips anywhere in our plant, Michele Dixon, spokeswoman for Petcurean told ConsumerAffairs.com. There is controlled access into our plant and if there had been any metal in the bags, it would have been picked up when we screened them.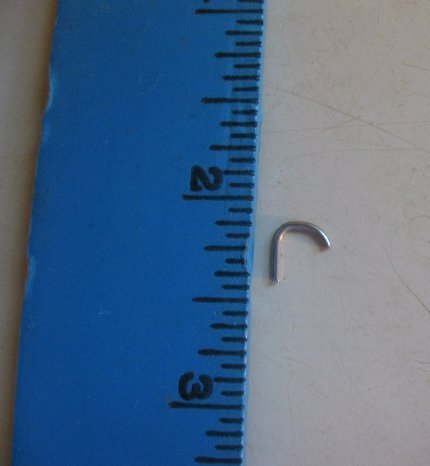 Pet owner Leslie K. of Tabernacle, New Jersey, discovered the metal piece in late August when she accidentally knocked over the bag of food.
When I saw the piece of metal it scared me, she told us. I grabbed the piece of metal as my two cats were eating the food on the floor.
Despite fears for her cats safety, Leslie says the way Petcurean handled her concerns renewed her confidence in the company and its products.
I received an immediate apology, she said. I didnt get the standard automatic response that many pet food makers give customers, like weve never had a complaint like before, or you did this, or that piece of metal must have been on the floor. They took my concerns seriously and said they wanted to do something right away.
Petcurean said it immediately launched an internal investigation and identified the metal piece as part of a paperclip.
But how it got in there (the bag of cat food) is something we cant conceive, Dixon said. If it had been through one of the grinders, it would have been ground up. But it wasnt.
We even took a paperclip and put it into a bag of food, she added. And then we ran the bag through our detectors and it set off every one of them. So were confident it didnt come from the plant.
What about possible post-production sources?
Dixon didnt want to speculate. This could have happened post production, she said. But at what level, who knows. For now, the company is confident this was an isolated incident.
This lot of cat food (Go! Natural Grain Free Trout Formula, Best by date Dec 16 10, 91016 2B42258, UPC 15260 00040) successfully passed our four critical control points, Dixon said. But were going to keep all this information on file. We take our customers concerns seriously and were always open with them about what we discover.
Leslie appreciates that transparency and remains a loyal Petcurean customer.
They are satisfied that this can't happen again and so am I, she said, adding the company is also covering the cost of one of her cats X-rays. I dont know what else they could look for.
Other pet food companies should take notes on how Petcurean handled this situation, she said.
I hope they will learn a lesson from Petcureans customer service and maybe we have had no other complaints and you must have done something to it wont be the standard answers anymore.