---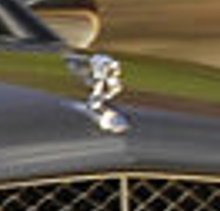 For you Ford and Toyota owners who feel like you're constantly getting the short end of the automotive stick, fear not: Bentley, the world-class automaker, has announced that it is recalling a number of models due to a potential safety issue.
Here's where the classes part ways again: the Bentley's problem isn't underinflated tires or an accelerator that sticks. No, the Bentley's issue involves the hood ornament, an accessory that most car owners these days can only dream of.
The ornament is supposed to retract when it comes into contact with another object, like, say, a pedestrian. But according to Bentley, corrosion in the hood could prevent the ornament from retracting fully, leading to potentially serious injuries in the event of an accident.
The recall, which was initiated after a dealer in the U.K. noticed the problem, involves the Arnage, Azure and Brooklands models manufactured between 2007 and 2009. The recall covers nearly 1,500 Bentleys worldwide, and over 600 in North America. If that number seems small, it's worth noting that Bentley sold around 8,500 cars worldwide in 2005 -- and just 3,500 in the U.S.
Bentley reported the problem to the National Highway Traffic Safety Administration (NHTSA), but stressed that "this condition has not been witnessed by or reported to Bentley Motors Limited, neither is Bentley otherwise aware of any accidents or injuries related to this matter."
The issue may be novel, but it's not all that surprising: hood ornaments have long posed dangers to pedestrians, which explains in large part why you don't see them much anymore. Over the years, carmakers have taken steps to make the ornaments safer -- the most recent versions bend when touched -- but liability concerns have pushed most carmakers to do away with the accessories altogether. Even Mercedes-Benz, once defined by its tri-point hood ornament, has instead gone with a logo on the grille in recent years.
The Bentley's hood ornament -- an elaborate capital B with an outstretched wing attached to the back -- has long been a defining feature of the make, and the easiest way to distinguish it from the similar-looking Rolls Royce (whose hoods feature a flying lady named the Spirit of Ecstasy).
Automotive recalls are always serious business, but it's not often that you see one as quirky as this. In 2008, Mini USA reportedly offered to replace owners' tailpipes free of charge after owners complained to NHTSA that the stock tailpipes stuck out too far, with a few burning their legs as a result.
Starting later this month, affected Bentley owners can have the ornament fixed at a dealership, free of charge. Some people have all the luck.
Thanks
Keep an eye on your inbox, the lastest consumer news is on it's way!
Unsubscribe easily whenever you want