---
Ohio officials today announced that a nationwide arrest warrant for identity fraud has been issued for the man claiming to be "Bobby Thompson," director of the U.S. Navy Veterans Association (USNVA), a supposed charity based in Florida.
"Thompson" disappeared in June amid a growing number of state investigations into the organization's fundraising and spending, including revelations that the man who appears to have orchestrated this sham charity made hundreds of thousands of dollars in political contributions to candidates throughout the United States and in Ohio.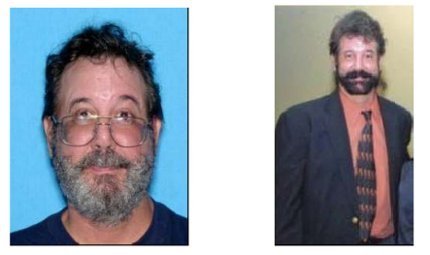 "Bobby Thompson" Photos: Ohio Attorney General
"Our investigators have determined that this individual stole the identity of someone else and used that as the centerpiece of an apparent scam that has continued for seven years and involved tens of millions of dollars," Ohio Attorney General Richard Cordray said. "The real Bobby Thompson, whose identity was stolen, including his Social Security number and date of birth, has absolutely no connection to the U.S. Navy Veterans Association. We don't know who this individual is yet, but we do know that he is not Bobby Thompson."
The Hamilton County arrest warrant is based on evidence that the individual claiming to be Thompson used a false identity in the process of renting a UPS mailbox in Cincinnati in 2003. The mailbox was used as a collection point for donations to the charity. Since 2003, Ohioans have contributed close to $1.9 million to the U.S. Navy Veterans Association. Nationwide contributions could be many times that amount.
On May 28, Cordray ordered the USNVA to stop contacting Ohio residents for contributions after determining that the group's registration documents were plagued with irregularities. Those documents contain false and misleading information, including the names of association officers who also appear to be fictional.
In recent weeks, the Charitable Law section of the Ohio Attorney General's Office has obtained court orders freezing the Ohio bank accounts of the USNVA as well as the organization's UPS mailboxes in Hamilton and Fairfield counties.
There appears to be very little evidence that the organization spent money actually helping veterans or their families, Cordray said. Yet public records do show hundreds of thousands of dollars in political contributions to various candidates made by "Bobby Thompson" personally or through the political action committee he created and to which he was the sole contributor, NAVPAC.
Anyone with information about this individual or his whereabouts is asked to contact the Ohio Bureau of Criminal Identification and Investigation at (740) 845-2224 or (800) 282-3784.
Cordray said that if "Thompson" is located and arrested outside of Ohio, his office will pursue extradition proceedings to have this individual returned to Ohio. Copies of the arrest warrant, photos of "Bobby Thompson" and additional background materials are available at www.OhioAttorneyGeneral.gov/USNavyVetsMaterials.