By Jon Hood
ConsumerAffairs.com
July 7, 2010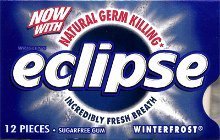 Gum titan Wrigley has agreed to settle a class action lawsuit alleging that it falsely advertised its Eclipse gum and mints as having natural germ killing power.

That claim is apparently based on a 2007 study, commissioned by Wrigley, showing that extracts from the bark of a magnolia plant kill 20 times more dental bacteria in half an hour than a placebo mint.

Eclipse gum and mints contain magnolia plant extract, a fact that Wrigley is not shy about advertising. Wrigley's website boasts that In June [2008], Eclipse became the first and only brand to include Magnolia Bark Extract (MBE), and heralds Eclipse products as offering incredibly fresh breath solutions for people whose on-the-go lifestyle demands a breath freshener that delivers.

A package of Eclipse Winterfrost gum purchased this week appears to contain the complained-of advertising. Red letters on the front of the package read Natural Germ Killing, with the back of the package explaining that, Emerging science indicates that the natural ingredient contained within Eclipse helps kill the germs that cause bad breath with the same great taste you expect from Eclipse!

Under the terms of the settlement, Wrigley will create a fund containing up to $7 million to reimburse consumers who bought Eclipse gum or mints that contained the natural germ killing message between June 1, 2008 and the present. Each class member is eligible to receive up to $10.

The company has also agreed to do away with the germ kill language on the product and to stop using magnolia bark extract as an ingredient. These conditions apply for three years after the settlement.

Both sides voiced satisfaction with the outcome of the case, with Wrigley insisting that it settled to avoid engaging in protracted litigation.

Jennifer Jackson-Luth, a marketing communications manager with Wrigley, said the company was already planning changes to Eclipse advertising due to strategic changes that were under way independent of this litigation. She added that the company stand[s] behind the scientific research regarding Eclipse gum and mints with magnolia bark extract.

Jonathan Stein, a partner with Robbins Geller Rudman & Dowd, one of the firms representing the plaintiffs, said, We are proud of the benefits that this settlement achieves for consumers.

Timothy Blood, another of the plaintiffs' attorneys, is involved in several other suits disputing what he calls junk science used to back up food-related claims. The firm's website confirms that its attorneys are going after companies who advertise that their foods are backed by scientific or clinical 'proof.'

One of those suits involves Yoplait's YoPlus, which claims that it contains fiber and clinically proven probiotic cultures to help naturally regulate digestive health.

Consumers who think they might be part of the class should visit the settlement website at www.eclipsesettlement.com. Claim forms must either be submitted online or postmarked by January 24, 2011. The settlement is still subject to final approval, and a hearing will be held on November 5 to determine whether the agreement is fair, reasonable, and adequate.