---
June 17, 2010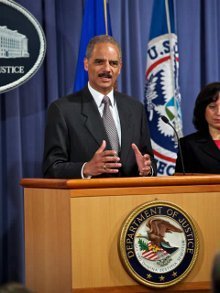 Federal prosecutors say a crackdown on mortgage fraud over the last three months has resulted in 485 arrests, the largest collective enforcement effort ever brought to bear in confronting mortgage fraud.
Since March 1, the crackdown -- called Operation Stolen Dreams -- has involved 1,215 criminal defendants nationwide, including 485 arrests, who are allegedly responsible for more than $2.3 billion in losses. Additionally, to date the operation has resulted in 191 civil enforcement actions that have resulted in the recovery of more than $147 million.
"Mortgage fraud ruins lives, destroys families and devastates whole communities, so attacking the problem from every possible direction is vital," Attorney General Eric Holder said. "We will use every tool available to investigate, prosecute and prevent mortgage fraud, and we will not rest until anyone preying on vulnerable American homeowners is brought to justice."
In a speech today, Holder also revealed that the Justice Department yesterday unsealed an indictment and arrested two defendants who allegedly targeted the Haitian-American community in Miami, often claiming they would assist them with immigration and housing issues, but then instead using victims' personal information to produce false documents to obtain mortgage loans.
In Chico, California, Holder said, a prominent home builder, caught with a significant amount of unsold new homes as the housing market cooled, allegedly used straw buyers to sell his houses at inflated prices with undisclosed sales rebates. Holder said the scheme inflated prices on other homes in the area, creating artificially high comparable sales and affecting the overall new-home market. To date, he says, thirty-eight of the homes have fallen into foreclosure and ten more have been the subject of short sales - all in one city.
Ghost loans
"In Detroit, just yesterday we charged several individuals who are part of a more than $100 million, 70-plus person 'ghost loans' scheme," Holder said.
In the scheme, the conspirators posed as mortgage brokers, appraisers, real estate agents and title agents and used straw buyers to obtain around 500 mortgages on only 180 properties.
"From home buyers to lenders, mortgage fraud has had a resounding impact on the nation's economy," said Mueller. "Those who prey on the housing market should know that hundreds of FBI agents on task forces and their law enforcement partners are tracking down your schemes and you will be brought to justice."
Federal officials says unlike previous mortgage fraud sweeps, Operation Stolen Dreams focused not only on federal criminal cases, but also on civil enforcement, recovering money for victims and increasing cooperation with state and local partners.
The operation was conducted in conjunction with the Department of Justice - including the FBI, U.S. Attorneys Offices, the U.S. Trustee Program and other components - as well as the Department of Housing and Urban Development, the Department of the Treasury, the Federal Trade Commission, the Internal Revenue Service, the U.S. Postal Inspection Service, the U.S. Secret Service, the National Association of Attorneys General and the National District Attorneys Association.