---
June 9, 2010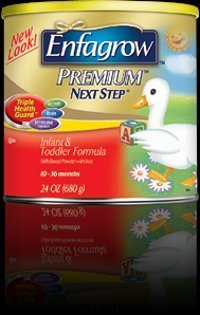 Saying it's been the subject of "misunderstanding and mischaracterization," Mead Johnson Nutrition has withdrawn its Enfagrow Premium chocolate drink from the market.
The product, intended for toddlers weaned from breast milk or formula, contains 19 grams of sugar per seven-ounce serving and has been controversial since its introduction.
"Our Enfagrow Premium products were introduced in the U.S. for toddlers who have been weaned off breast milk or infant formula, but still need nutritional support to their main diet," the company said in a statement. "Parents have told us that they consider these products an important option for meeting the overall nutritional needs of toddlers, especially those who are picky or erratic eaters."
The company also said the recently introduced chocolate-flavored version has what it called "a superior nutritional profile" to many other beverages typically consumed by toddlers -- including apple juice, grape juice, and similarly flavored dairy drinks.
"Unfortunately, there has been some misunderstanding and mischaracterization regarding the intended consumer for this product and the proper role it can play in a child's balanced diet," the statement reads. "The resulting debate has distracted attention from the overall benefits of the brand, so we have decided to discontinue production of Enfagrow Premium chocolate toddler drink and phase it out over the coming weeks."
The American Academy of Pediatrics was among the critics, suggesting that feeding sweets to toddlers increases their interest in consuming more sugary foods and decreases their interest in more nutritious food. In recent years many doctors have recommended limiting toddlers' consumption of sweet food and beverages.
Enfagrow Premium will remain available in three unflavored versions -- Next Step, Gentlease Next Step and Soy Next Step -- as well as vanilla. Mead Johnson said it stands behind the nutritional quality and scientific integrity of all its products, "while also striving to be responsive to the needs and concerns of our consumers in the marketplace."