---
By Jon Hood
ConsumerAffairs.com
June 2, 2010
As anyone with a faulty internal compass can attest, electronic maps and directions are a godsend. Mapquest, in-car navigation systems, and, more recently, portable GPS devices like Garmin and Magellan, are invaluable -- and generally accurate -- tools for the directionally-challenged.
But a lawsuit filed late last week shows that trust but verify applies to electronic directions as well.
The suit stems from a January incident in which Los Angeles native Lauren Rosenberg was hit by a car while walking down a busy street in Park City, Utah, a popular ski town 30 miles outside Salt Lake City.
Unfamiliar with her surroundings, Rosenberg used her BlackBerry to download directions from Google Maps, the Mapquest competitor that also provides terrain photos, traffic updates and street-level views of a chosen address. Unfortunately for Rosenberg, Google took her onto Utah State Route 224, a rural highway without sidewalks that gets its fair share of traffic. Rosenberg was hit by a car, and eventually incurred over $100,000 in medical bills.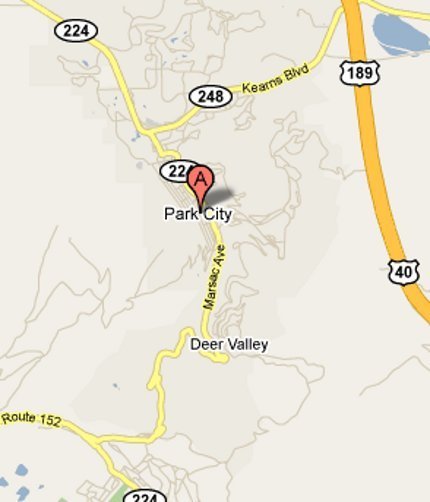 Scene of the mishap
Rosenberg claims that the road was not reasonably safe for pedestrians, and blames Google for leading her there in the first place. She contends that her stroll down Route 224 was a direct and proximate cause of defendant Google's careless, reckless and negligent providing of unsafe directions and leading her onto a dangerous highway.
She's suing the search giant for her medical costs and an unspecified amount of punitive damages, claiming that the incident caused her severe permanent physical, emotional, and mental injuries, including pain and suffering.
As noted by the online edition of PC World, Google typically offers warnings in situations like the one Rosenberg encountered. Potential pedestrians who view directions on their computers are told that: Walking directions are in beta. Use caution -- This route may be missing sidewalks or pedestrian paths. Those warnings don't appear on Blackberrys or iPhones, however.
The incident is a reminder that, while electronic maps and directions are helpful in many situations, common sense and awareness of one's surroundings aren't dead just yet. If your GPS tells you to turn off of a bridge and into a lake, you don't have to do it.
The suit also adds another chapter to the annals of strange-but-true Google Maps stories. Last May, a British woman caught her husband cheating when she used Google Maps' street view feature -- which allows the user to see a building's exterior and the surrounding area -- to view the home of a female friend. Much to her chagrin (although probably not to her surprise), the woman saw her husband's Range Rover parked outside.
According to The Sun (http://www.thesun.co.uk/sol/homepage/news/article2350771.ece), which broke the story, the wife [recognized] his motor immediately because of its blinged-up hubcaps. Lawyer Mark Stephens told The Sun that the incident, while strange, was hardly isolated.
I was talking about the Range Rover case when another divorce lawyer came up to say his firm was dealing with the same sort of thing, Stephens said. People are getting caught out on Google.
Oh by the way, Rosenberg is also suing Patrick Harwood, the unlucky Park City resident who hit her.